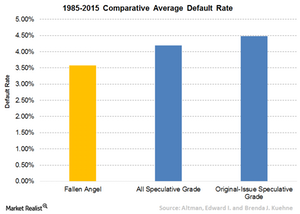 What's in Store for Fallen Angel Bonds?
By VanEck

Jul. 12 2016, Published 5:21 p.m. ET
How would you expect rising default rates to impact potentially fallen angel bonds should credit tighten?
Fallen angels (ANGL) have had lower average default rates than the broad high yield bond market historically (3.58% versus 4.19%).[3. Source: Altman, Edward I. and Brenda J. Kuehne. "Defaults and Returns in the High-Yield Bond and Distressed Debt Market: The Year 2015 in Review and Outlook." February 2016. NYU Salomon Center. Data as of December 31, 2015 since 1985.  **Issuer based.] A tightening credit cycle could harm the more vulnerable issuers, whether they be original-issue high-yield or fallen angels. Having a lower exposure to B-rated and CCC-rated bonds may help investors better endure broad credit deterioration and experience fewer defaults. Those issuers at the lower end of the credit spectrum tend to be more vulnerable to higher capital costs, closing of capital markets or other factors that could lead to an increase in defaults.
Data as of December 31, 2015.
Article continues below advertisement
High-yield bonds, in general, have had a nice rebound since the lows in February. What is your overall outlook for the remainder of the year?
Uncertainty remains high, but the risk premium in high yield is also still above its long-term historical average. While it is difficult to foresee a repeat of the type of bounce we have seen since the second week of February, there are a variety of factors that continue to support the high yield market. A moderate-growth, low-interest-rate environment sets up well for high yield markets, and an improvement in commodity markets has benefitted several key sectors. But there are many potential disturbances that have already led to risk-off trades in the recent past: China (FXI), commodity prices, Brexit, the US (VOO) election, a rate shock. Over the medium to long term, though, economic growth that can lead to earnings growth will likely be the key factor behind high yield fundamentals, which is why we are less concerned about the Federal Reserve than we are about deflationary forces.[4. Represents opinion of portfolio manager and is subject to change at any time and from time to time.]
Source: FactSet, BoA Merrill Lynch. Data as of May 31, 2016. Fallen angel universe is represented by the BofA Merrill Lynch US Fallen Angel High Yield Index (H0FA), which is the underlying index for the VanEck Vectors Fallen Angel High Yield Bond ETF (ANGL), and the broad universe is represented by the BofA Merrill Lynch US High Yield Index (H0A0). Historical information is not indicative of future results. Index performance is not illustrative of fund performance. Fund performance current to the most recent month end is available by visiting vaneck.com/etfs.