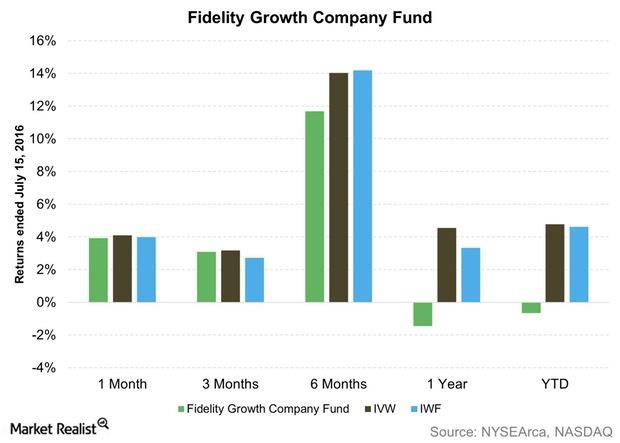 What's Been Beating down the Fidelity Growth Company Fund in 2016?
By David Ashworth

Jul. 22 2016, Updated 7:53 p.m. ET
Performance evaluation
The Fidelity Growth Company Fund (FDGRX) has declined by 0.7% YTD (year-to-date) in 2016. This decline has led to the fund being among the below-average performers in the year so far. Although the one-month period until July 15 has been good, other periods, including the one-year period, have been sub-par.
We've graphed FDGRX's performance against two ETFs: the iShares S&P 500 Growth ETF (IVW) and the iShares Russell 1000 Growth ETF (IWF). Let's look at what has contributed to this below-average performance by the fund YTD in 2016.
Article continues below advertisement
Portfolio composition and contribution to returns
Healthcare is the only sector that has contributed negatively to FDGRX YTD in 2016. However, its quantum of contribution is so high that all other sectors combined have not been able to pull the performance of fund into the positive zone. Alkermes (ALKS) has done the most damage to returns from the sector, followed by Ionis Pharmaceuticals (IONS) and Regeneron Pharmaceuticals (REGN). Exelixis (EXEL) has contributed positively, but its contribution has had a negligible impact.
The fund's stock picks from the information technology—the fund's largest invested sector—have done the most to reduce the drag from healthcare. NVIDIA (NVDA) stands head-and-shoulders above all positively contributing stocks. The stock has nearly single-handedly powered the sector in 2016 so far. Apple (AAPL) has led detractors and chipped away some of the overall positive contributions.
Consumer discretionary stocks have trailed tech stocks in terms of positive contributions. Lululemon Athletica (LULU) and Amazon.com. (AMZN) have helped the sector. Meanwhile, Restoration Hardware Holdings (RH) has emerged as the biggest negative contributor.
Investor takeaways
FDGRX would have had a good 2016 so far had it not been for healthcare stocks, in general, and ALKS, in particular. Its stock picks from the consumer discretionary and information technology sectors have done better than the same sectors in the SPDR S&P 500 ETF (SPY).
However, other sectors have underperformed their peers in SPY. One notable aspect of the fund is its low portfolio turnover. Given its affinity in stock picks and its past performance, FDGRX can be an option for your investment shortlist, notwithstanding its lackadaisical performance YTD in 2016. Current investors should have patience.
Now let's move to the next fund under review: the Franklin Growth Fund Class A (FKGRX).