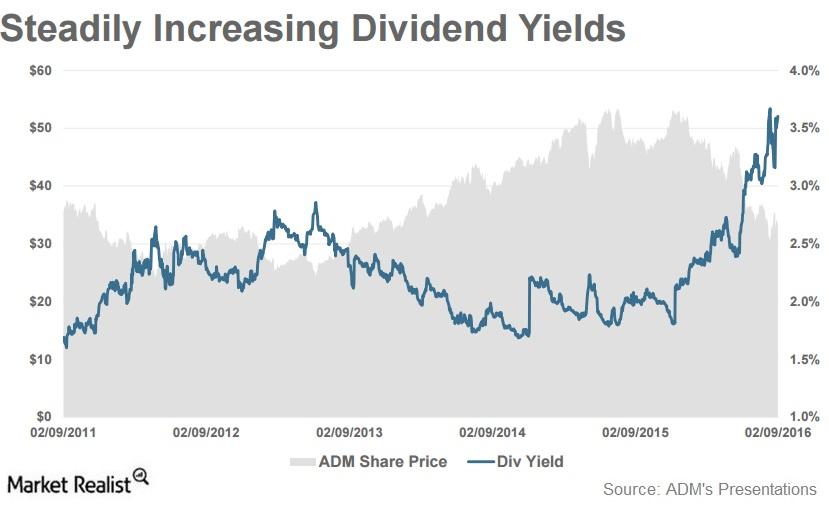 What's Archer Daniels' Balanced Capital Allocation Framework?
Balanced capital allocation framework
For 2016, Archer Daniels Midland (ADM) prioritizes to balance its capital allocation framework. The company advanced with this strategy by selling a 50% interest in its Brazilian port in 2015. For 2016, the company fixed a capital expenditure of around $1 billion. To improve the long-term returns in a challenged operating environment, it plans to reduce the asset intensity in several of its businesses. In 1Q16, capital expenditure was around $0.2 billion. It set a preliminary target to reduce the invested capital for its businesses by at least $1 billion over time.
Article continues below advertisement
Returning capital to shareholders
In light of the execution of its balanced capital allocation framework, Archer Daniels Midland's total returns to shareholders were $0.5 billion for the quarter. The board announced a 7% increase in its quarterly dividend to $0.30 per share in 2016. During the quarter, the company repurchased around $300 million shares. It paid about $200 million in dividends as part of this strategy. Management plans to repurchase $1 billion–$1.5 billion in shares in 2016. This is subject to strategic merger and acquisition opportunities.
338th dividend payment
On May 5, Archer Daniels Midland declared a cash dividend of $0.30 per share on the company's common stock. This was paid on June 8, 2016, to shareholders of record May 18, 2016. This dividend marked Archer Daniels Midland's 338th consecutive quarterly payment.
Currently, Archer Daniels Midland has a dividend yield of 2.7% as of July 25. Management has been increasing the dividend at a CAGR (compound annual growth rate) of 14.4% over the past five years.
The following are peers' dividend yields as of July 25:
The Consumer Staples Select Sector SPDR Fund (XLP) and the SPDR S&P Global Natural Resources ETF (GNR) invest 1.4% and 1.9% of their portfolios in Archer Daniels Midland.