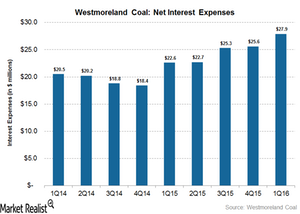 What's Westmoreland Coal's Leverage and Liquidity Position?
By Sheldon Krieger

Jul. 12 2016, Updated 7:06 p.m. ET
Westmoreland Coal's debt
According to its latest 10-Q filings, Westmoreland Coal (WLB) has about $1.13 billion of debt on its books as of March 31, 2016. The company's debt increased from $1.05 million at the end of 4Q15 mainly due to the San Juan acquisition in 1Q16. Almost one-third of this debt is due for payment in 2018. The remaining part of the debt is due after 2019.
Westmoreland Coal's interest expenses have been rising consistently since 4Q14. The increase is mainly due to the company's higher debt levels. The debt levels were incurred to fund its acquisitions in Canada and the US.
Moving ahead, the company expects to reduce its interest expenses by paying down its debt in 2H16.
Article continues below advertisement
Liquidity position
Westmoreland Coal had about $17.8 million in the form of cash and cash equivalents at the end of 1Q16. According to company filings, as of March 31, 2016, Westmoreland had zero drawn on its revolving credit facility. Not counting letters of credit, it had $36.3 million available to draw.
On June 29, 2016, Westmoreland Coal executed an amendment to its revolving credit facility with The PrivateBank and Bank of the West. This amendment allows Westmoreland coal to draw an additional loan amount for an extended borrowing period.
For fiscal 2016, Westmoreland Coal maintained its cash interest guidance of ~$90.0 million. The company expects to generate $59.0 million–$71.0 million in the form of free cash flows.
Off-balance sheet risk
The posted face value of surety bonds by Westmoreland Coal is one of the highest in the US coal (KOL) mining industry. As of December 31, 2015, Westmoreland Coal posted $384.1 million in the form of surety bonds. Moreover, its San Juan acquisition further increased the bonding obligation by $3.4 million at the end of 1Q16. These bonds are supported by cash collateral of about $103.2 million. Westmoreland's peers such as Peabody Energy (BTUUQ), Cloud Peak Energy (CLD), and Arch Coal (ACIIQ) posted $458 million, $440 million, and $178 million surety bonds, respectively.
As a result, any deterioration in the company's financial health could require it to post additional collateral against these bonds. Collateral comes with a cost and can have a negative impact on the company's liquidity position.