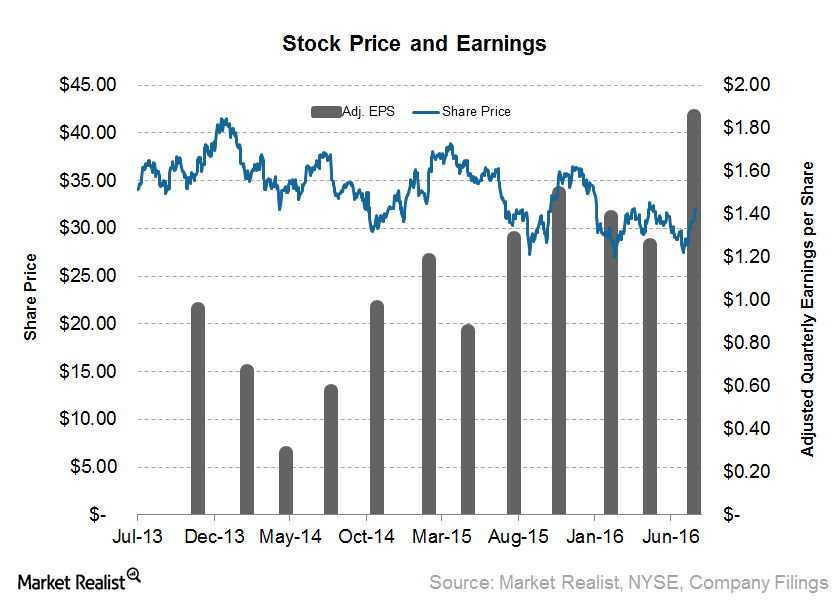 How Did Wall Street React to GM's 2Q16 Earnings?
GM's strong 2Q16 earnings
General Motors (GM), the largest US automaker, released its 2Q16 earnings on July 21, 2016. The company's adjusted EPS (earnings per share) came in at $1.86 for the quarter. That's 44% higher than $1.29 in 2Q15. Wall Street analysts were estimating GM's 2Q16 EPS would come in at ~$1.48.
Article continues below advertisement
Wall Street's reaction
Before we begin looking at the key highlights of General Motors' strong 2Q16 earnings, let's take a quick look at the Market reaction to it. On the day of General Motors' 2Q16 earnings release, its stock closed at $32.03, a rise of 1.7% from the previous session. The company's strong North American performance and high demand for pickup trucks and utility vehicles continued to drive profitability in 2Q16. Also, cutting fleet sales has helped GM to expand its margins in recent quarters. These could be primary factors that impressed investors.
In 2Q16, major auto companies (XLY) continued to witness massive falls on Wall Street. GM's stock fell 10.0% during the quarter.
The auto industry's 2Q16 earnings season
The auto industry's 2Q16 earnings season has begun on a strong note with GM's results. Fiat Chrysler Automobiles (FCAU) and Ford Motor Company (F) will release their second quarter results on July 27 and July 28, respectively. The popular electric vehicle maker Tesla Motors (TSLA) is set to release its second quarter results on August 3.
Series overview
In this series, we'll take a closer look at General Motors' strong revenues and profitability. We'll find out what factors drove GM's 2Q16 earnings. We'll also see how the company has been progressing in the development of autonomous vehicles and look at what it expects from its car-sharing business. Later in the series, we'll take a look at some important factors that may drive GM's valuation multiples in the coming quarters.