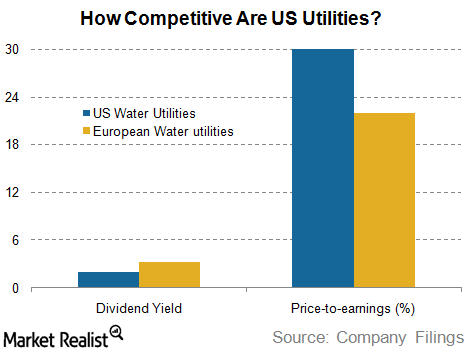 How Do US Utilities Compare with Their European Counterparts?
US water utilities versus European counterparts
Many conservative investors are opting for utilities given their impressive yields and earnings stability. But are US utilities really economical compared to their global counterparts? US utilities seem to be trading at high premiums compared to European utilities. Also, their yields are much lower than yields from European utilities.
Article continues below advertisement
Water ETFs with global exposure
Water utility ETFs like the Guggenheim S&P Water Index ETF (CGW) and the PowerShares Water Resources Portfolio (PIO) invest in international utility companies that operate in water-related businesses. CGW's top holdings include Geberit, American Water Works (AWK), and Pentair (PNR).
Geberit is a Swiss multinational that operates in the sanitary business. It's a leader in Europe and has a global presence. CGW invests 8% in Geberit while PIO invests 7.5%. CGW invests 40% of its holdings in US and European utilities each.
Pentair (PNR), an Irish company headquartered in Minnesota, operates in water management and related businesses. PIO invests 9% while CGW invests 6% of their total holdings in Pentair. PIO has approximately 40% exposure to US and European utilities each. PIO yields a tad below 3%.
Due to the sharp rise of US utilities in the last six months, their valuations have peaked at new highs this year. On the other hand, European utilities have corrected by more than 7% in the last year. Therefore, investors may find European utilities more attractive than US utilities.