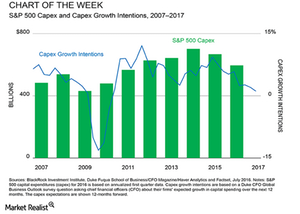 Why US Profit Recession Is Expected to End in the Second Half
By Richard Turnill

Updated
We're optimistic U.S. earnings will improve in the second half, but we believe the rebound may not be as big as many expect. Here's why.
The U.S. profits recession probably didn't end last quarter, with S&P 500 earnings likely to post a fourth consecutive quarterly decline. We see company earnings improving in the second half, but the rebound may be smaller than many expect. This week's chart helps explain why.
Article continues below advertisement
Market Realist – Earnings to improve in second half
The profit recession in the United States that began in the third quarter of 2015 is expected to continue its losing streak in the second quarter as well. According to S&P (Standard & Poors), the profits of companies in the S&P 500 (IVV) index are expected to decline by 5% in the second quarter. Factset estimates that earnings will decline by 5.5%.
S&P estimates that the energy sector will lead the losses with profits of companies likely to fall by a whopping 80%. Major energy companies such as Chevron (CVX) and ExxonMobil (XOM) are likely to see huge profit declines due to lower oil prices.
The financial sector is also expected to report subdued performance due to a very low interest rate regime that depresses net interest margins. In 2Q16, Citigroup (C) reported a 17% decline in profit year-over-year, while Wells Fargo's (WFC) profit fell 2%.
Improvement just around the corner
The profit recession in the United States is expected to end in the third quarter of this year. According to S&P, the profits of companies in the S&P 500 index are expected to grow 2% in the third quarter and 8% in the last quarter. S&P further expects double-digit growth in corporate profits in 2017.
The higher optimism derives from improving economic indicators such as higher consumer spending, declining unemployment, and rising wages. In the second half of the year, the US economy could be on a stable growth path amid the global turmoil.