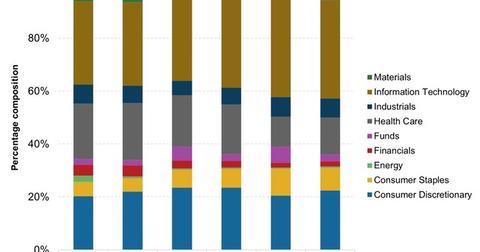 Understanding the Portfolio Changes in the JPMorgan Large-Cap Growth Fund so Far in 2016
By David Ashworth

Jul. 22 2016, Published 6:55 p.m. ET
Fund overview
The JPMorgan Large-Cap Growth Fund Class A (OLGAX) "invests primarily in equity securities of large capitalization companies with market capitalizations similar to those within the universe of the Russell 1000 Growth Index…It seeks to invest in stocks that have potential to exceed market expectations for a prolonged period of time."
The investment process encompasses research, stock selection, and risk management, leading to a diversified portfolio. The fund manager actively seeks to identify companies with positive price momentum and attractive fundamentals.
Article continues below advertisement
The fund's assets were invested across 71 holdings (stocks, bonds, and cash) as of June 2016, and it was managing assets worth $13.7 billion as of the end of June. As of the May portfolio, its equity holdings included Home Depot (HD), Comcast (CMCSA), Delta Air Lines (DAL), Broadcom (AVGO), and Honeywell International (HON). The fund is top-heavy, with its top ten holdings making up 38% of its assets.
Portfolio changes
Information technology, consumer discretionary, and healthcare are the core sectors invested in by the fund. The first two sectors make up nearly 60% of the portfolio, while the last one is the only other sector allocation that reads in double digits. The fund's management has given telecom services and utilities a miss.
Compared to the Russell 1000 Growth Index, the fund is overweight in the information technology and materials sectors, while being underweight financials, healthcare, and industrials.
A look at the quarterly portfolios for the past three years until June 2016 shows quite a few changes in sectoral composition. Exposure to consumer staples has ranged between 3.5%–10%. Financials, which made up 4.5% of the portfolio three years ago, now make up just 2%. On the other hand, exposure to tech stocks has been stepped up quite substantially.
But have these portfolio changes helped OLGAX in outperforming its peers? We'll investigate this question in the next article.