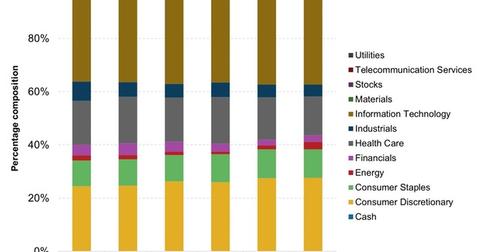 Understanding the Portfolio Changes in the Fidelity Blue Chip Growth Fund so Far in 2016
By David Ashworth

Updated
Fund overview
The Fidelity Blue Chip Growth Fund (FBGRX) invests "at least 80% of assets in blue chip companies (companies whose stock is included in the S&P 500 or the Dow Jones Industrial Average and companies with market capitalizations of at least $1 billion, if not included in either index)."
The fund manager also invests in companies that he believes have above-average growth potential. The manager makes use of fundamental analysis, which includes factors like the financial condition and industry position of each issuer, while looking at economic and market conditions and selecting securities for the portfolio.
Article continues below advertisement
FBGRX's assets were invested across 361 holdings as of June 2016, when it was managing assets worth $18.5 billion. As of the fund's May portfolio, its equity holdings included Salesforce.com. (CRM), Visa (V), Gilead Sciences (GILD), MasterCard (MA), and Reynolds American (RAI), which make up a combined 7.7% of the fund's portfolio.
Portfolio changes
Information technology, consumer discretionary, and healthcare are the core sectors invested in by the fund. The first two sectors form a combined 64% of the portfolio with the remaining sector forming over a tenth of the fund's assets. The fund manager is not invested in utilities, which he exited in August 2015.
FBGRX considers the Russell 1000 Growth index as its benchmark index. Compared to that index, FBGRX is overweight in the information technology, consumer discretionary and energy sectors, while being sharply underweight in industrials, financials, materials, and telecom services.
Consumer discretionary
We've looked at portfolios of FBGRX over the past three years. The fund's exposure to consumer discretionary right now is the highest than at any other time during that period. The same goes for information technology stocks. On the other hand, exposure to financials is nearly half of what it was three years ago, while exposure to industrials has been reduced sharply as well.
But how has FBGRX performed year-to-date in 2016, and what can that performance be attributed to? Continue to the next part to find out.