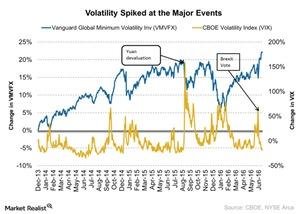 Market Uncertainty to Remain: Where Do the Markets Go Next?
By Sarah Sands

Jul. 15 2016, Updated 3:52 p.m. ET
Greg Fleming's view on the global market
In an interview with Wall Street Week on July 8, 2016, Greg Fleming, former Morgan Stanley Wealth Management president, discussed his views on the following:
Article continues below advertisement
High Market volatility will remain
According to Fleming, high volatility will remain in the Market. The global market (VEU) has gone through various events in the past years. The global financial crisis of 2008 created high volatility in the global market. After China's yuan devaluation, the global market faced increasing volatility. Now, after the Brexit vote, volatility has again increased. Although the Markets have recovered their losses, it's still a warning sign for the global economy.
The CBOE Volatility Index, which measures the implied volatility of S&P 500 Index options, rose 49% on June 24, 2016. This was a day after the United Kingdom voted to leave the European Union.
On August 24, 2015, after China's yuan devaluation, the index spiked nearly 150%. This shows how these events increase volatility in the Market. If similar events occur in the future, the Market may face more uncertainties.
Going forward, the global market will be challenging, and investment decisions should be very selective.
In the next part of this series, we'll see how a Brexit could impact the United Kingdom and the Eurozone (IEV) (EZU) in the long term.