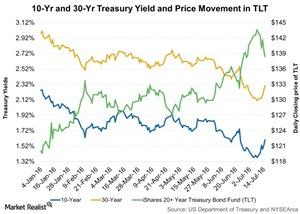 Treasury Yields Jumped on Robust US Inflation and Retail Sales Data
By Lynn Noah

Updated
Treasury yields bounced back last week
US Treasury yields rose across the yield curve for the week ended July 15, 2016, as robust US consumer inflation and retail sales data revived expectations that the Federal Reserve could raise interest rates later this year. The yields also rose as demand for haven assets fell, as Japanese Prime Minister Shinzo Abe hinted about more stimulus ahead after winning upper house elections. Plus, the Bank of England signaled that more stimulus might come in August, although it unexpectedly kept its key interest rate unchanged at its July 14 policy meeting.
However, the rise in yields on ten-year notes fell on July 15 after Turkey's army said it had taken over power in the country, which led to a rise in demand for haven assets. However, Turkish Prime Minister Binali Yildirim said his government is still in control of the country.
US Treasury yields recovered last week after they fell post-Brexit as investors flocked to Treasuries as an alternative to sub-zero bond yields in Europe and Japan after respective central banks adopted negative rates in an effort to spur economic growth.
For the week ended July 15, the two-year Treasury yield rose ten basis points and ended at 0.71% while the ten-year Treasury yield jumped 23 basis points and ended at 1.6%. The 30-year Treasury bond yield surged 19 basis points week-over-week and ended at 2.7%.
Article continues below advertisement
Bill Gross and Jeffrey Gundlach warn of low yields
Bill Gross of Janus Capital Group said that the low sovereign yields around the world and in the US are too risky. Gundlach, CEO of DoubleLine Capital, said on July 12, "investors who rushed into debt last week will face a hard time making money as yields find a bottom and begin to rebound."
Investment impact
As long-term Treasury yields bounced back, associated ETFs and mutual funds fell due to the inverse relationship between yields and prices. For the week ended July 15, the iShares 20+ Year Treasury Bond Fund (TLT) and the iShares Core US Aggregate Bond Fund (AGG) fell 3.6% and 0.9%, respectively. Meanwhile, the Dreyfus US Treasury Long Term Fund (DRGBX) fell 3.3%, and the T. Rowe Price US Treasury Long-Term Fund (PRULX) was down 3.4% week-over-week.
In the next article, we'll look at US economic indicators and why they're raising hopes for a rate hike in 2016.