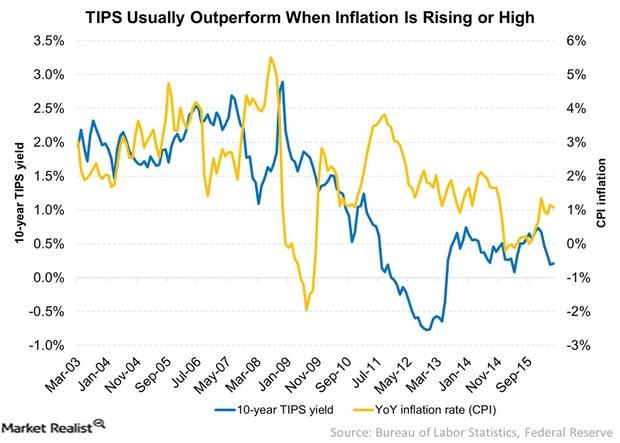 How Can TIPS Add Value to Your Portfolio?
By Heather McArdle

Jul. 26 2016, Updated 9:06 a.m. ET
Inflation-Linked Investment Products
Fixed income products linked to inflation may offer investors a potential opportunity to protect the performance of an asset against higher inflation and higher rates. The U.S. Treasury issues Treasury inflation-protected securities (or TIPS). Other countries offer inflation-linked securities and often refer to them as "real bonds" or "linkers." The advantage of U.S. TIPS is that the purchasing power of future cash flows is protected from inflation. U.S. TIPS are exempt from state and local tax, and they represent a generally liquid market. TIPS pay interest twice per year based on a fixed rate, but the principal value is adjusted based on the CPI in order to account for inflation. The TIPS index ratio is set at 1.0 at issuance and is adjusted on a daily basis according to the CPI, with a three-month lag. The index ratio will therefore increase along with inflation and decrease along with deflation. As the index ratio changes, the principal on the bond adjusts with it on a percentage basis, either up (with inflation) or down (with deflation). At any given time, the number of bonds multiplied by the TIPS index ratio equals the adjusted principal amount. For example, a TIPS index ratio of 1.03 would indicate that the CPI had grown a total of 3% since the corresponding TIPS bond was issued. The principal would be adjusted according to this number, and therefore it would have increased by 3% for this period. An investor who owns USD 100 million par value would receive USD 103,000 in adjusted principal, and the coupon would be paid off of this new principal amount. U.S. TIPS are also protected from deflation if prices go down. The redemption value of the principal cannot go below 100% even if the TIPS index goes below 1.00 (indicating deflation). However, not all "linkers" are protected from deflation.
Article continues below advertisement
How TIPS add value to your portfolio Market Realist's View
TIPS (TIP) (Treasury Inflation-Protected Securities) are one of the few securities that actually pay you directly for inflation. Unlike regular bonds (AGG) (BND), which see an erosion in value when inflation rates rise, TIPS outperform. So TIPS could be a great way to diversify your bond portfolio.
The graph above compares the ten-year TIPS yield with the YoY inflation rate based on CPI. Remember, a bond's yield and its price move in opposite directions. As the graph suggests, TIPS typically outperform when inflation rates rise. However, inflation expectations are a factor. We'll look more at inflation expectations in the next two parts of the series.