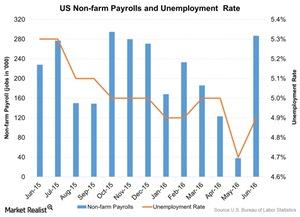 Strong US Jobs Report Raised Hopes of a Rate Hike in 2016
By Lynn Noah

Updated
Robust US jobs report
According to the U.S. Bureau of Labor Statistics, the economy added 287,000 new jobs in June—the biggest improvement since October 2015 and up from a paltry 11,000 jobs added in May. Strong job numbers offered some reassurance that the economy rebounded after a trend of weak labor market reports. Average hourly wages increased 2.6% in the 12 months to June 2016—matching the highest level of the recovery. The unemployment rate rose to 4.9% in June from 4.7% in May. Equity markets and short-term Treasury (SHV) (IEF) yields rose after the release of the jobs data.
Article continues below advertisement
Rate hike in 2016 depends on global and domestic developments
With a very strong report, it's possible that the Fed might raise rates later this year. Also, a rebound in the second quarter GDP growth and the rise in the manufacturing sector makes the case for a rate hike in December 2016. Market participants expect that the Fed might hike interest rates by 25 basis points in December.
Although most Fed officials have continued to signal a desire to raise rates at least once in 2016, minutes from the Fed's June 14–15 meeting, released on June 6, showed that the FOMC (Federal Open Market Committee) "generally agreed" that they needed to see more data before contemplating another hike.
The Fed's next meetings are on July 26–27 and September 20–21. A final meeting before the November presidential election will take place on November 1–2. A rate hike in July is off the table because of volatility and uncertainty created in the global markets due to the Brexit vote. A rate hike in the September and November meeting is doubtful because of the presidential election. In December, the Fed would have enough data about the US economy as well how the global markets are performing after the monetary stimulus introduced by various central banks.
In the next part, we'll look at the highlights of the June FOMC meeting minutes.