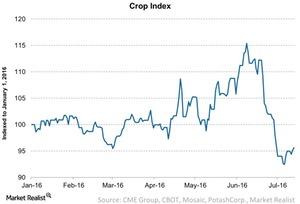 Is More Weakening Expected in Agricultural Fertilizers?
State of crop prices
Crop prices continue to remain significantly depressed compared to 2015. As of July 13, current crop prices are much lower than the beginning of the year. They have remained mostly below their past five-year prices.
Article continues below advertisement
Crop index level
The crop price index reached its peak of 115 in June 2016—it has fallen since then. As of July 13, the crop index[1. Calculated using historical spot prices of key NPK-consuming crops: corn, wheat, soybean, and rice] stood at 95.6. It rose by 0.5% following the USDA's[2. United States Department of Agriculture] latest stock-to-use ratio published on July 12. However, the crop index fell by about 2.3% month-over-month. This highlighted extended weakness in the agricultural environment (MOO).
Why is this a concern?
Low crop prices raise concerns about the recovery in the fertilizer sector. Low crop prices mean a lower farm income. This pressures farmers to rethink their operating expenses—including fertilizers. In 2015, fertilizers represented 41% of the operating costs for corn in the US, according to the USDA.
Net farm income in 2015 declined by 38%, according to the USDA. Fertilizers' average dollars per planted acre for wheat, corn, and soybeans declined by 7.8%, 7.1%, and 6.5%, respectively. A decline in average fertilizer dollars per planted acre doesn't always mean lower fertilizer consumption.
Fertilizers such as nitrogen must be applied every year, while this isn't the case for phosphate and potash. Nitrogen fertilizer shipments increased in the recent quarter for companies such as CF Industries (CF), PotashCorp (POT), Terra Nitrogen (TNH), and Agrium (AGU). The average realized prices of fertilizers have fallen significantly in 2016. Read Comps Happen: How Fertilizer Companies Performed during 1Q16 to learn more.