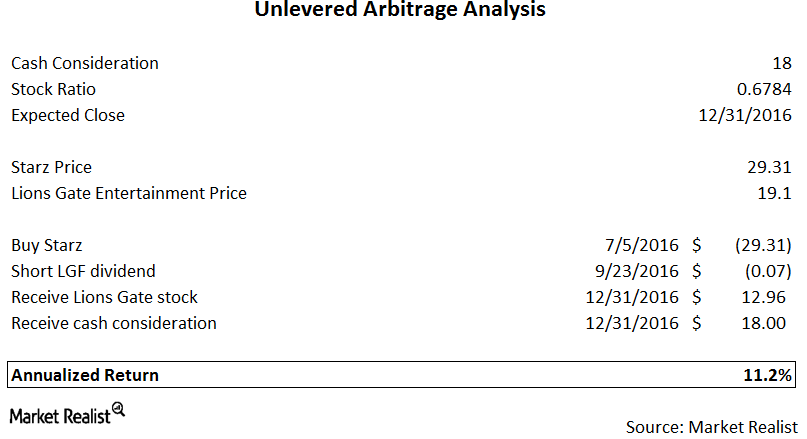 Starz and Lions Gate: The Latest in Media Consolidation
By Brent Nyitray, CFA, MBA

Nov. 20 2020, Updated 12:55 p.m. ET
Merger arbitrage
In merger arbitrage, an investor generally buys the stock of the company being acquired, short sells the relevant ratio of the acquirer's stock if applicable, and waits for the deal to close. When the merger is complete, the investor exchanges the stock of the company being acquired for the amount agreed on in the deal.
Article continues below advertisement
Starz and Lions Gate announce a merger
On June 30, Starz (STRZA) and Lions Gate (LGF) announced a merger where Starz shareholders would receive 0.6784 shares of Lions Gate non-voting common stock for each share of Starz they hold. This transaction has all of the hallmarks of a John Malone deal, with voting/non-voting share issues. Before the deal closes, Lions Gate will split into voting shares and non-voting shares. Starz Class A shareholders will receive non-voting stock, while the Class B shareholders will get voting stock. The Class B is tightly held and illiquid. The companies are guiding for an end-of-year close.
The Starz A shares (STRZA) get one vote per share. The Starz B shares (STRZB) are supervoting and have ten votes per share. John Malone owns 61.5% of the Class B shares and Lions Gate owns another 26.3%. Between those two holders, Malone and Lions Gate already control 46% of the Starz votes. David Faber of CNBC said that there was a process run to sell Starz.
The deal will be subject to a shareholder vote and regulatory approval. Lions Gate will fund the cash portion with newly issued debt. The Lions Gate stock re-organization prior to the close will create some complicating factors for merger arbitrageurs and could have them avoiding the situation altogether.
Assuming that you buy Starz and short Lions Gate at the current levels, the spread works out to be about 11.3% annualized.
Other merger arbitrage resources