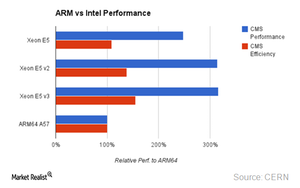 Why the SoftBank-ARM Deal Is Not Good News for Intel
By Puja Tayal

Updated
Intel versus ARM
In this series, we've already discussed how ARM Holdings (ARMH) could be a lucrative acquisition target for cloud service providers like Microsoft and Google and mobile players like Qualcomm (QCOM) and Apple (AAPL). But one possible acquisition that could be dangerous is that of Intel (INTC) and ARM.
Intel designs its own semiconductor architecture, x86, which rivals ARM's architecture. But while x86 is strong in the PC and data center market, where computing requirements are high, ARM is strong in the mobile market, where low-computing processors are needed.
Article continues below advertisement
Intel and ARM to compete in the data center market
Intel tried to make its mark in the mobile processor market but exited it in fiscal 1Q16 due to strong competition from ARM. ARM is looking to make its mark in the server space, but Intel would give a tough fight. Until now, Advanced Micro Devices (AMD), Cavium, and Applied Micro tried to sell ARM-based server chips but failed to gain market share.
Now Qualcomm has entered the server chip market, and analysts believe that Qualcomm is well placed to bring ARM chips to the server market because it has the experience of successfully implementing ARM chips in the mobile space. So far, ARM chips do not match the performance of Intel chips, and the latter doesn't consider ARM as a threat in the data center space.
With SoftBank in the picture, however, more resources would be deployed for R&D (research and development) for data center chip designs. SoftBank would use ARM-based server chips in its telecom companies to demonstrate the chips' performance.
Intel and ARM to compete in the IoT market
ARM's key threat is in the IoT (Internet of Things) space, because Intel is making efforts not to miss out on the IoT revolution. Intel Capital is the largest investor in IoT startups, according to data from CB Insights. Recently, Intel partnered with BMW and Mobileye (MBLY) to develop a platform for autonomous cars.
SoftBank's acquisition of ARM would pose a big threat to Intel as IoT would be driven by 5G and low-power processors. Qualcomm is already at the forefront of 5G, combining application processors and modems in one chip.
ARM already commands a 25% market share in the IoT market and expects to increase that to 50% by 2020. On the other hand, Intel looks to increase its market share to 45% by 2020, and so with SoftBank's acquisition of ARM, Intel will have to tighten its seat belt and speed up its efforts to secure a big enough bite of IoT.