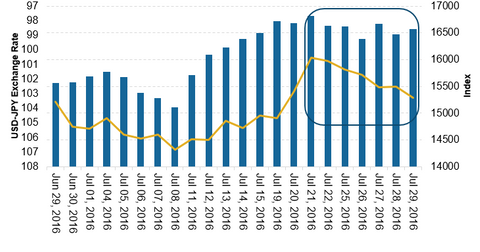 Sharp Fall in the Japanese Yen, Nikkei 225 Bounces Back
By David Meyer

Updated
BoJ policy impacted the Japanese yen
The US dollar-Japanese yen currency pair is inversely related to the yen. It fell to a low of 102.72 after the Japanese monetary policy release. The pair rebounded from the more than 2% fall. It was trading at 103.41 at 7:00 AM EST. The strengthening of the yen was mainly due to the BoJ (Bank of Japan) failing to come up with monetary policy easing in line with the market expectations. The Japanese yen has been on a heavily volatile path during the days leading up to the monetary policy. For more on the Japanese yen's recent volatility, read Volatility in the Japanese Yen before the BoJ's Meeting.
The Japanese index Nikkei 225 also fell sharply initially after the BoJ failed to increase the size of the asset purchase program. However, it rebounded because the BoJ managed to appease the markets with the increase in ETF purchases. We discussed this in Part 1.
Article continues below advertisement
Japanese data release
Looking at some more Japanese data releases ahead of Japan's monetary policy release, retail sales and industrial production numbers published by the Japanese Ministry of Economy, Trade, and Industry were better than the previous month's figures. Retail sales fell by 1.4% in June—compared to a fall of 2.1% in May. The industrial production number registered a strong bounce back of 1.9%—well above the forecasts of 0.6%.
The unemployment rate reported by the Statistics Bureau was also on a positive note. The unemployment rate fell to a seven-month low of 3.1% in June.
Asian markets are mostly negative
Most of the major Asian indexes (AAXJ) were trading lower on July 29 after the Japanese central bank's monetary policy failed to live up to the market expectations.
On July 29, the Japanese (DBJP) Nikkei 225 was among the few positive movers. It rose by 0.56% partly due to the doubling of ETF investments by the BoJ. Among major losers in the Asian markets, the IDX composite and Taiwan weighted index fell by 1.6% and 1.0%, respectively. The Chinese (FXI) (MCHI) DJ Shanghai Index fell by 0.60%. The Indian Index Nifty 50 (INDA) was also on a negative trajectory—it fell by 0.32%
The Oceania indexes were among the gainers—the Australian (EWA) S&P/ASX 200 and the Dow Jones New Zealand Index (VPL) rose by 0.10 % and 0.56%, respectively.