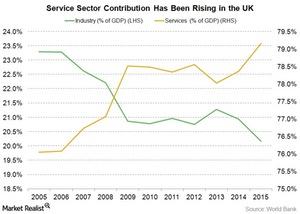 Service Sector's Contribution Has Been Rising in the UK
By Surbhi Jain

Nov. 22 2019, Updated 7:06 a.m. ET
Business risks associated with the Brexit
We've looked at the trade-related risks associated with Brexit and the economic impact it could have on the economy's output. Let's now take a look at specific risks that could arise for businesses as a consequence of Brexit.
From a business perspective:
The United Kingdom would lose its single-market freedom, which would impact its trade with EU (European Union) member nations.
The establishment and movement of capital will become costly.
Existing long-term contracts stand to be affected—most likely adversely.
There will be possible tax consequences where businesses currently receive EU subsidies.
Businesses will face divergence between UK and EU rules on mergers. Multinationals will be particularly vulnerable to this.
Article continues below advertisement
Service sector has gained prominence in the United Kingdom
Companies in the goods production sector are more vulnerable to Brexit's consequences than are those in the service sector. This is because their futures depend on the whether the United Kingdom enters into a trade agreement with the EU (HEDJ) and the terms of such an agreement.
The downside risk of Brexit to the production sector in the United Kingdom is associated with the possibility of tariffs being imposed on goods exported to the EU.
However, industrial sector contribution has fallen from over 23% of UK GDP a decade ago to about 20% now. Meanwhile, service sector contribution has been rising rapidly, from 76% a decade ago to over 79% currently.
Service sector exports are leading
Moreover, a quick look at the composition of exports reveals that while services exports as a share of output have been rising, goods exports as a share of output have been broadly stable, fluctuating around an average of 16% since 1999.
This shows that service sector companies such as those belonging to the financial services sector have been contributing positively to growth in the United Kingdom. Banks such as HSBC (HSBC), UBS (UBS), Royal Bank of Scotland (RBS), and Barclays (BCS) have gained prominence.