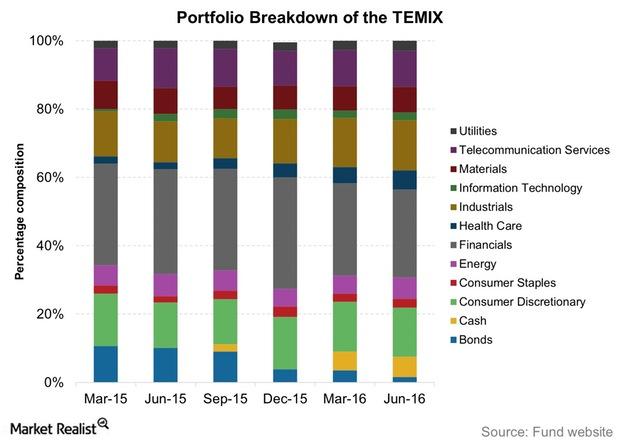 Sector Composition of the Franklin Mutual European Fund
By David Ashworth

Jul. 27 2016, Published 3:33 p.m. ET
Franklin Mutual European Fund overview
The Franklin Mutual European Fund Class A (TEMIX) "invests at least 80% of its net assets in securities of European companies that the investment manager believes are available at market prices less than their value based on certain recognized or objective criteria (intrinsic value)."
This means that the fund's management looks for undervalued securities by arriving at securities' intrinsic values and seeing whether they're trading below those values. TEMIX also invests in merger arbitrage securities and stocks and bonds of distressed companies.
Under normal circumstances, the fund's management will spread its assets across companies from at least five different countries. It can also invest up to 20% of its assets in instruments issued by companies located in the United States, the Middle East, emerging markets, and other regions.
Article continues below advertisement
The fund's assets were spread across 84 holdings as of June 2016, and it was managing assets worth $2.6 billion as of June's end. According to its quarterly holdings report for June, its equity holdings included Nokia (NOK), Deutsche Telekom (DTEGY), XL Group (XL), Koninklijke Philips (PHG), and Sanofi (SNY).
Portfolio changes in the Franklin Mutual European Fund
Financials is the biggest sectoral holding of TEMIX, making up one-quarter of the fund's portfolio. Industrials, consumer discretionary, and telecommunications services are the other core sectors of the fund. These four sectors combined form 65% of its assets.
Let's look at the fund's quarterly portfolios for the three years leading up to June 2016. Though financials is the fund's topmost invested sector, exposure to it fell from one-third of the entire portfolio intraperiod. Exposure to both consumer-focused sectors has also fallen compared to three years ago.
About two years ago, the fund's management lost interest in technology stocks and liquidated all holdings from the technology sector. Since then, management's interest in technology stocks has returned. Exposure to telecommunications stocks is currently surprisingly high.
Compared to a year ago, exposure to assets invested in bonds has been reduced, but exposure to cash is fairly high.
In the next article, we'll see what's impacted TEMIX's performance year-to-date.