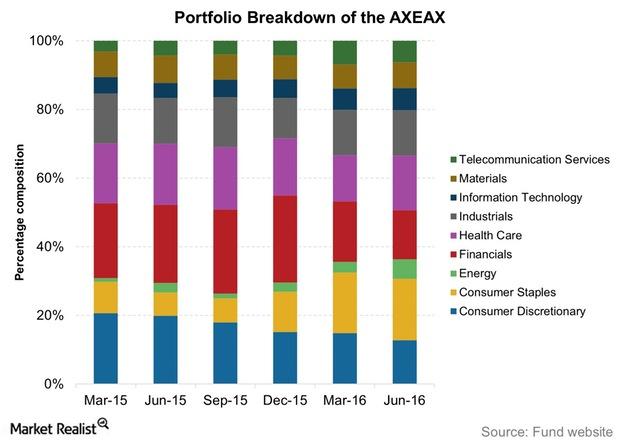 Sector Composition of the Columbia European Equity Fund
Columbia European Equity Fund overview
The Columbia European Equity Fund Class A (AXEAX) invests in "equity securities of European companies that are believed to offer growth potential. Under normal market conditions, the Fund invests at least 80% of its net assets (including the amount of any borrowings for investment purposes) in equity securities of European companies."
Fund managers can invest in securities of companies based out of developing or emerging markets as well. However, the bulk of the portfolio will be invested in securities of companies based out of developed economies.
Article continues below advertisement
Portfolio changes in the Columbia European Equity Fund
Consumer staples is AXEAX's top invested sector. The four sectors that follow it have the fund's assets quite evenly distributed between them. Healthcare and consumer discretionary make up a combined 28.5% of the portfolio, while financials and industrials combined form slightly less than a quarter of the portfolio. The fund is not invested in the utilities sector.
Compared to the MSCI Europe Index, AXEAX is overweight the consumer staples, consumer discretionary, healthcare, industrials, information technology, and telecommunications services sectors, and it's underweight in others.
A look at the fund's quarterly portfolios over the past three years reveals quite a few changes in its sectoral composition. Among the two consumer-focused sectors, exposure to discretionary had fallen over the past three years as of June, while exposure to staples had risen. These transitions were not unidirectional. Exposure to staples first fell, then rose, then fell, then rose again. Energy had a similar experience.
Exposure to financials rose to as high as 25% of the fund's portfolio intraperiod, but it now stands at 12.2%.
Thus, the fund's management has been quite active in managing its portfolio. Has this translated into performance? Let's take a look in the next article.