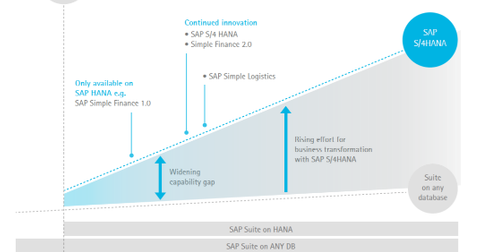 New Flagship ERP Fuels Growth in SAP's Business Suite Pipeline
By Anne Shields

Updated
SAP's S/4 HANA dominates growth story
Earlier in this series, we discussed how growth in cloud subscriptions and traditional software licenses, especially in Europe (EWU), helped SAP (SAP) post growth in its previous fiscal quarter. As expected, SAP's new flagship ERP (Enterprise Resource Planning) platform—SAP Business Suite 4 SAP HANA, or SAP S/4 HANA—continued to see increased adoption.
In fiscal 2Q16, SAP added more than 500 SAP S/4HANA customers. Out of these 500 SAP S/4HANA customers, approximately 40% were new SAP customers. It now boasts of more than 3,700 customers. US-based Hershey, Russia-based (RSX) Targin Group, Hong Kong-based Cathay Pacific, and Australia-based (EWA) Roy Hill Holdings were among the companies that chose SAP S/4 HANA that fiscal quarter.
The increased adoption of SAP's S/4 HANA and the increased traction of company's cloud offerings have led SAP to expect a 33% growth in its cloud subscriptions and support for fiscal 2016 revenues.
Bill McDermott, CEO of SAP in the company's fiscal 2Q16 earnings release, stated that "Our S/4HANA pipeline has never been stronger and we confidently reiterate our full year guidance."
Article continues below advertisement
Dependence on S/4 HANA adoption
Previously, SAP's cloud strategy revolved around SAP HANA. Now it has transferred to S/4 HANA. This is why SAP's S/4 HANA performance is carefully scrutinized to judge the company's performance in the cloud space.
SAP's S/4 HANA was released in early 2015. It runs on the SAP HANA platform. HANA is SAP's in-memory analytics product. It allows organizations to do analyses of large volumes of data in real time. All of the data that's stored in memory or RAM (random-access memory) is referred to as "in-memory."
SAP's S/4HANA, on-premise edition can be deployed on the Amazon's (AMZN) AWS (Amazon Web Services). In the business intelligence and analytics market (apart from SAP's S/4 HANA), there's also Oracle's (ORCL) Exadata Database Machine.