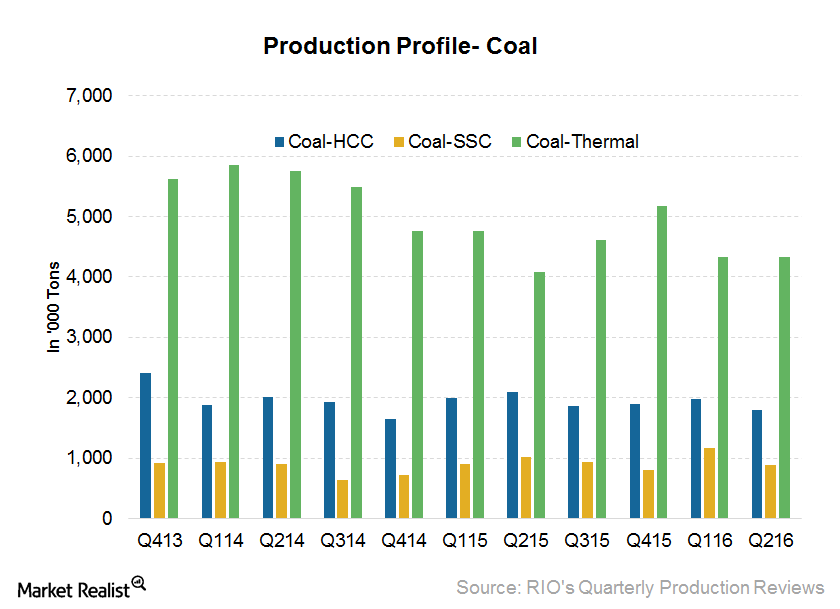 Are Rio Tinto's Coal Volumes Expected to Increase in 2016?
Coal volumes
Along with iron ore and manganese, metallurgical coal is a key input in steel production. A sustained rise or fall in coal shipments is a significant indicator that affects the stock value of coal producers (KOL) such as BHP Billiton (BHP) (BBL), Rio Tinto (RIO), Peabody Energy (BTU), Alliance Resource Partners (ARLP), Arch Coal (ACI), and Cloud Peak Energy (CLD).
Rio Tinto forms 1.7% of the SPDR S&P Natural Resources ETF (GNR).
Article continues below advertisement
Coal production
Rio's hard coking coal production was 8% lower YoY (year-over-year) in the first half of 2016. It was 3.8 million tons due to the timing of the longwall changeover at Kestrel.
Semi-soft coking coal production, on the other hand, was 8% higher YoY in the first half of 2016 and 13% higher YoY in 2Q16 due to the following:
Coal & Allied restructuring in early 2016
mine production sequencing at Hunter Valley Operations and Mount Thorley Warkworth
Thermal coal production showed almost flat growth in the first half of 2016 over the first half of 2015, coming in at 8.6 million tons.
Coal guidance in line
Rio Tinto increased its share of production to come in at 17 million–18 million tons of thermal coal, from 16 million–17 million tons previously.
It maintained its guidance for semi-soft coking coal of 3.3 million–3.9 million tons and for hard coking coal of 7 million–8 million tons.
This guidance implies a 9% decline for thermal coal, a 1.3% decline for semi-soft coking coal, and a 5% decline for hard coking coal.
In 2015, many coal companies filed for bankruptcy. More are on the verge of bankruptcy due to weak fundamentals in the coal market and burgeoning debt levels. Only the most efficient and lean producers would be able to make it through the current rout in this space.
For more on coal and coal producers, visit Market Realist's coal page.