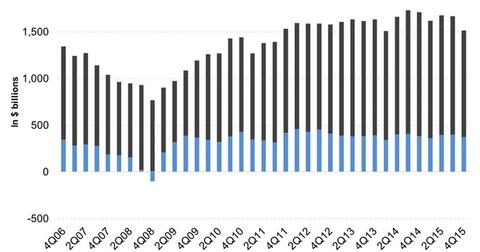 Richard Bernstein on Profits Recession and Portfolio Positioning
By David Ashworth

Updated
Profits recession is turning
When Richard Bernstein refers to a profits recession, he's mostly pointing to the phenomenon in the United States. In his recent interviews and monthly newsletters, he has said that the US corporate universe has been in a profit recession for three or four quarters.
In response to the profits recession, Bernstein's firm has become defensive. A defensive position means higher exposure to consumer staples (PG), utilities (PPL), healthcare (XLV) (FXH), and telecommunication services (TMUS), compared to other sectors.
Being a macro researcher who claims he doesn't know anything about Coke (KO) versus Pepsi (PEP), Bernstein believes that the corporate profits cycle has turned in the United States.
According to Bernstein, the worst of the profit recession was seen in 4Q15. At this juncture, investors should be invested in equities, but fear is driving them toward comparatively safer investment avenues.
Article continues below advertisement
Portfolio positing in an earnings-driven bull Market
In an earlier series, we looked at two types of bull markets as described by Bernstein. In what he calls an earnings-driven bull market, PE (price-to-earnings) multiples decline. In such a market, the decline in the aforesaid ratio must be due to a rising earnings per share number instead of a falling price component.
Cyclical stocks tend to do better than stable growth companies in earnings-driven bull markets. This is so because, according to Bernstein, "cyclical companies' incremental earnings growth more than offsets the negative effect of rising rates." Stable growth companies see contracting PE multiples as their prices go down while earnings remain stable.
In the July edition of his monthly Insights newsletter, Bernstein pointed to both equity and debt markets as proof that investors are extremely risk-averse. To further prove his point, he looked at flows into equity funds. Let's look at that in the next part of the series.