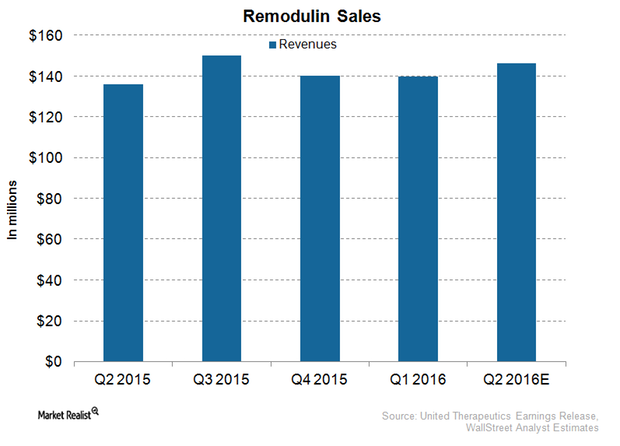 How Will Remodulin Sales Fare in 2Q16?
By Margaret Patrick

Jul. 20 2016, Published 4:13 p.m. ET
Remodulin sales
Administered either subcutaneously or intravenously, United Therapeutics' (UTHR) Remodulin is generally used as a late-stage therapy for pulmonary arterial hypertension (or PAH).
Wall Street analysts expect that in 2Q16, Remodulin's sales will rise year-over-year (or YoY) by about 7.6% and reach $146.3 million. Despite the demand being warehoused due to patients wanting to try oral PAH therapies such as Uptravi and Orenitram, Remodulin is not expected to witness a long-term impact on its sales. Patients using Uptravi are expected to experience disease progression and will ultimately require Remodulin for treatment.
If Remodulin manages to achieve this revenue target for 2Q16, it may boost United Therapeutics' share price as well as that of the iShares Nasdaq Biotechnology ETF (IBB). United Therapeutics makes up about 0.89% of IBB's total portfolio holdings.
Article continues below advertisement
Implantable Remodulin
United Therapeutics is also involved in developing an implantable Remodulin pump, a drug-device combination that uses Medtronic's proprietary technology. However, on March 24, 2016, the Food and Drug Administration (or FDA) declined Medtronic's application for approval. United Therapeutics is confident that the Remodulin implantable device will be approved in 2017. If the drug does receive approval, it will enable United Therapeutics to target those PAH patients who cannot be administered Remodulin subcutaneously or intravenously.
It's estimated that 20% to 25% of PAH patients are in the class III stage of the disease and are on the border of class IV or class V, which are the most severe stages of the disease. Out of these patients, 5% to 8% who couldn't access the medicine may be able to use Remodulin through the new implantable pump. The implantable Remodulin pump will prove to be a strong addition to United Therapeutics' portfolio and enable the company to compete more effectively with other PAH players such as GlaxoSmithKline (GSK), Teva Pharmaceuticals (TEVA), and Gilead Sciences (GILD).
In the next article, we'll explore growth trends for Tyvaso in 2Q16.