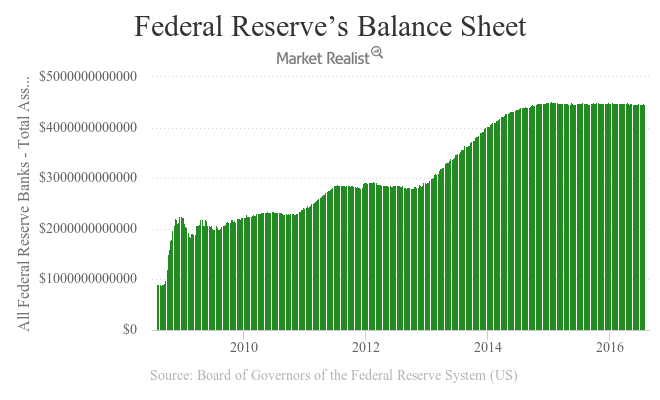 Rate Hike Delayed in July: What Does Brexit Have to Do with It?
Federal Reserve's accommodative monetary policy
The stance of the monetary policy in the United States is accommodative. This is an often repeated statement. It implies that the Federal Reserve, which is responsible for setting monetary policy in the United States, has put measures in place that support the US economy. This includes, but isn't limited to, buying bonds and reducing interest rates. Although bond buying in the United States has ended, the Fed continues to keep all bonds bought in the past on its balance sheet. You can see this in the graph below.
[marketrealist-chart id=1495234]
Article continues below advertisement
An accommodative monetary policy helps equities (QQQ). At various points of a recession, consumer cyclicals, utilities (XLU), and even financials do well. Automakers (GM) (FCAU), airlines (AAL) (LUV), and hotels (HLT) (MAR) are good examples of cyclical stocks. This generally drives bond yields down, although yield movement also depends on views about inflation.
Why is the Brexit vote impacting US monetary policy?
An adverse economic occurrence makes monetary policymakers wary. This leads either to more monetary stimulus or no further tightening of the policy.
In our interconnected world, no country is an island. That's why in January 2016, economic worries in China caused a panic in the financial markets of the developed world. The impact of the Brexit vote is not yet known, but it can potentially impact countries beyond Europe.
Article continues below advertisement
If a monetary policy is tightened in this environment and if the United Kingdom's exit negotiations end up having a far-reaching negative impact on trade, then the Fed will need to quickly reverse its stance. This will be necessary in order to protect the US economy. So adopting a wait-and-see approach could be better than rate action at this point.
What about domestic factors?
Domestic factors are key to a monetary policy. If one's house is in order, the state of the neighborhood may not matter so much when making household decisions.
If the US economy shows strength across various aspects, the Brexit and its fallout may not matter so much when it comes to monetary policy. So let's see how various major economic indicators are reading and what the Federal Reserve had to say about them in its July statement. Let's start with economic growth.