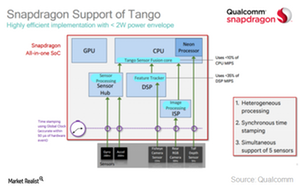 Qualcomm Launches New Chipsets to Boost Revenue Growth
By Puja Tayal

Jul. 18 2016, Updated 9:08 a.m. ET
Qualcomm's chipset technology
In the previous part of this series, we saw that Qualcomm (QCOM) is set to report weaker earnings in fiscal 3Q16 as its licensing business suffers from seasonal weakness. However, its Chipset segment could benefit from strong sales of Snapdragon 820.
Qualcomm is at the forefront of mobile technology, offering advanced SoCs (system-on-chips) and baseband modems.
Article continues below advertisement
Snapdragon 821
After the success of Snapdragon 820, Qualcomm recently launched Snapdragon 821, which it claims is 10% faster than its predecessor 820. The 821 offers up to 2.4 GHz clock speed compared to the 2.15 GHz clock speed offered by the 820.
Augmented reality in phones
However, Qualcomm (QCOM) realized that the smartphone market is slowing and consumers need more innovation to upgrade their phones. As a result, it partnered with Google (GOOG) on Project Tango, which aims to develop SoCs that support augmented reality (or AR).
The two companies are set to launch the technology in the form of Lenovo Phab 2 Pro in September 2016. Tango would be supported by Qualcomm Snapdragon 652, which is based on Snapdragon Heterogeneous Processing Architecture that puts non-compute chips on computing functions.
Qualcomm would support Tango in Snapdragon 820, as well as the future 800 and 600 series SoCs. The impact of these two technologies would be visible in Qualcomm's earnings in the next two quarters.
Article continues below advertisement
5G technology
Qualcomm launched its X16 modem, the first modem to support LAA (Licensed-Assisted Access). This will give the company a head start in 5G (fifth-generation) mobile wireless, which is still under development.
Qualcomm has been working with Verizon Communications (VZ) to roll out 5G technologies in 2017. It is likely to secure the FCC's approval to test high-frequency airwaves for 5G residential broadband services.
However, global standards on 5G are yet to be established, and China is likely to play a key role in setting these standards. According to a report by Bernstein Research, "China has a strong vested interest in ensuring a significant amount of Chinese technology is embedded in the 5G standard—finally freeing them from their dependency on foreign technology and the need to pay royalties."
The report stated that the 5G standardization would be concentrated in the hands of a few. Qualcomm may lead in chip design and Ericsson (ERIC), Nokia (NOK), and Huawei may lead in the network.
The 5G technology would start generating revenue for Qualcomm in the long term. Next, we'll see how competition is impacting Qualcomm in the mobile space.