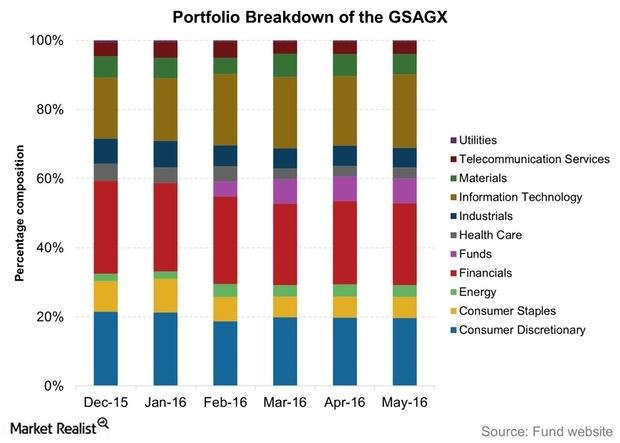 What Portfolio Moves Has GSAGX Made Year-to-Date in 2016?
By David Ashworth

Jul. 1 2016, Updated 3:08 p.m. ET
Goldman Sachs Asia Equity Fund overview
The Goldman Sachs Asia Equity Fund (GSAGX) aims to invest 80% of its net assets in "a diversified portfolio of equity investments in Asian issuers (excluding Japanese issuers)." Apart from stocks, the fund can invest in ETFs and futures.
The fund's literature states that though its holdings are mainly be focused on Asia, it can invest in non-Asian companies, including those from Japan.
The fund's managers allocate assets according to their estimates of a security's upside potential and downside risk, its attractiveness given its peers, and the way its addition will impact industry and sector composition. Managers look for "well-positioned, cash-generating businesses run by shareholder-oriented management teams." The fund is benchmarked to the MSCI All Country Asia ex-Japan Index.
Article continues below advertisement
The fund's assets were spread across 95 holdings as of May 2016, and it was managing assets worth $70.1 million. As of March, its equity holdings included Vipshop Holdings (VIPS), Cognizant Technology Solutions (CTSH), Taro Pharmaceutical Industries (TARO), Infosys (INFY), and Advanced Semiconductor Engineering (ASX).
Portfolio changes in the Goldman Sachs Asia Equity Fund
Financials is GSAGX's most invested sector, followed closely by information technology. Consumer discretionary stocks are the third largest invested sector. These sectors form roughly one-fifth of the fund each, accounting for a combined 65% of its assets.
Chinese stocks form 39% of the fund's assets. Indian stocks are a distant second, forming 15% of the portfolio. South Korea edges past Taiwan for the third spot, and Indonesia rounds off the top five invested geographies. These top five countries form 76% of the portfolio.
Compared to the MSCI AC Asia Pacific ex Japan Index, the fund is overweight in Chinese, Indian, and Indonesian equities while being underweight on South Korean, Taiwanese, and Malaysian equities.
Though financials is the sector in which GSAGX invests the most, the fund's allocation to it has fallen from 30% one year ago to 24% at present. The fund's exposure to information technology stocks has also fallen from a year ago, but it's higher than it was intraperiod.
Consumer discretionary stocks have seen their share in the fund rise, while consumer staples stocks have seen a fall after having seen a rise earlier in the 12-month period ended May 2016.
With its portfolio positioning, how has GSAGX fared YTD, and why? Let's look at that in the next article.