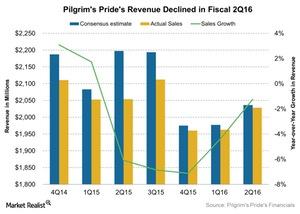 Why Pilgrim's Pride Continued Its Downward Revenue Trend in 2Q16
Revenue fell slightly
On July 27, 2016, Pilgrim's Pride (PPC) reported its financial results for 2Q16, which ended June 26, 2016. It generated revenue of $2.03 billion, a small decline of 1% compared to $2.05 billion in 2Q15. Revenue continued its trend of declining growth and fell behind estimates, missing them by a mere 0.4%.
Article continues below advertisement
Segment contributions to revenue
Pilgrim's Pride operates through three geographic segments: the United States, Puerto Rico, and Mexico. The Puerto Rico business is part of the company's US operations.
The US chicken segment is the company's primary revenue segment. It generated about 85% of its total revenue in 2Q16. This segment includes the sale of fresh chicken and prepared chicken.
Sales for the US segment fell by 9% to $1.7 billion compared to 2Q15. In this segment, demand for case-ready and small birds remained strong. The environment in the commodity market was better compared to the same period last year since low prices added to demand. The industry regained much of the access to export countries, resulting in increased pricing of lower levels of cold storage inventories.
Mexico had a strong contribution to the 2Q16 results. Revenue for this segment increased 39% in the quarter aided by better operating performance, improved supply-demand environment, and increased synergies of the newly acquired assets.
Revenue growth for peers
Pilgrim's Pride's competitors in the industry include ConAgra Foods (CAG), Tyson Foods (TSN), and Kellogg (K). ConAgra and Kellogg saw declining revenue growth of 31% and 4%, respectively. Tyson's revenue fell 8% in its last reported quarter.
To gain diversified exposure to TSN, you can invest in the iShares Morningstar Mid Core ETF (JKG) and the Guggenheim S&P 500 Equal Weight Consumer Staples ETF (RHS), which invest 1.2% and 2.6%, respectively, in TSN.
Next, let's see if Pilgrim's Pride is successfully driving margin growth.