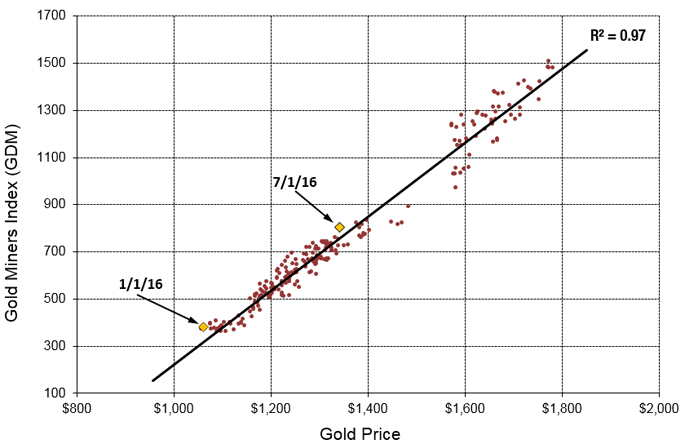 The Outlook for Gold Continues to Shine
By VanEck

Jul. 27 2016, Updated 9:04 a.m. ET
Gold Stocks Still Have Upside
For an idea of where gold stocks might be heading, we use a plot of gold versus the GDMNTR Index. Chart B shows the relationship of gold stocks to gold bullion since 2012, which is roughly the time in which managements at many gold firms turned their companies around to become more efficient and focused on returns. The correlation5 statistic of 0.97 is a near perfect 1.00, which shows the strong relationship between gold and gold stocks.
Chart B: Gold Bullion versus Gold Shares (GDMNTR)
2012 to 2016 (Weekly Close)
Source: Bloomberg, VanEck Research.
Article continues below advertisement
In the first half of 2016 gold advanced $260 per ounce or 24.6%. The GDMNTR has gained 102.6% over the same period, leading many investors to question whether gold stocks have any upside left. While we do not expect such heady gains going forward, given the tight relationship between gold and gold stocks, we can use this trendline to estimate potential stock gains at higher gold prices. If gold were to advance another $260 (19.7%) from the June 2016 close, it would reach $1,582 per ounce. A trendline plot at $1,582 gives a GDMNTR value of 1,135, an additional 47% gain from the June close of 769. This beta, or leverage, to the gold price is a result of the strong cash generation that comes from higher gold prices.
Valuations are Important: P/CF Averages are Still Below Peak
It is also important to consider valuations. The performance of gold stocks has resulted in a strong increase in price-to-cash flow (P/CF) in 2016, as shown in Chart C. However, gold stocks became oversold in the recent bear market, driving valuations to historic lows. The strong stock gains in 2016 have yet to return gold stocks to their long-term P/CF averages, and they remain far below peak valuations.
Chart C: Price-to-Cash Flow of Senior- and Mid-Tier Producers, 2006 to 2016
Source: Bloomberg, RBC Capital Markets.
Article continues below advertisement
Market Realist – The outlook for gold (GLD) continues to look bright. As we explained in this series, uncertainties posed by the Brexit referendum continue to favor safe haven assets like gold (IAU). Moreover, since interest rates remain low, and even negative in some economies, investors looking for income may prefer to seek refuge with gold and gold mining stocks.
Plus, demand and supply forces are also likely to buoy gold prices. Both China (MCHI)(ASHR) and India have been shoring up their gold holdings. In fact, China (FXI) has increased its central bank gold reserves by a humongous 71.4% in the last 12 months (Source: The Telegraph).
Both gold and gold miners could be good investment opportunities for investors. UK-listed gold miner stocks like Randgold (GOLD), Fresnillo, and Acacia have been performing well recently and could provide good opportunities for investors. In fact, gold miner stocks (GDX)(GDXJ) could prove to be more viable than gold assets since miners' margins tend to improve when gold prices go up, increasing the potential return to investors. People looking to invest in gold must remain cautious since gold and gold stocks tend to be volatile.