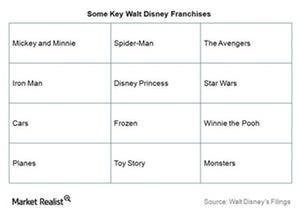 What's the Outlook for Comcast's Film Business?
Comcast's Filmed Entertainment segment
According to a Forbes report on July 11, Comcast's (CMCSA) recent release, The Secret Life of Pets, earned $103.1 million at the US box office within three days of its release. The film had the fourth-largest collection at the box office for a Comcast movie, surpassed only by Jurassic World, Furious 7, and Minions.
The company is also working on its franchises. Universal Pictures' new movie from the Bourne franchise, Jason Bourne, will be released on July 29. In 2016, Comcast's Universal Pictures will not have as strong a slate as it did in 2015, but the company notes that it still has a "strategic slate of core franchises, sequels and animated films."
Article continues below advertisement
In its last earnings call, Comcast stated that it currently has eight movie franchises and is "hard at work" to build more franchises. Comcast also stated that a core part of its strategy continues to be effectively monetizing its existing franchises across its business segments and developing new franchises.
The Walt Disney Company (DIS) is another company that has managed to successfully monetize its franchises. The company stated in its fiscal 2Q16 earnings call that its 13 Marvel Universe movies have generated $10 billion at the global box office so far this year.
Comcast's Filmed Entertainment segment in 1Q16
Comcast's Filmed Entertainment segment had a difficult 1Q16, with revenues of $1.4 billion and a decline of 4.3% YoY (year-over-year). Comcast's Filmed Entertainment revenues were primarily dragged down by a 36.4% decrease in theatrical distribution revenues to $236 million in 1Q16. The declining theatrical distribution revenues were due to a difficult comparison with the strong performance of the movie Fifty Shades of Grey in 1Q15. Disney makes up 0.81% of the SPDR S&P 500 (SPY) ETF. SPY makes up 3.5% of the computers sector.