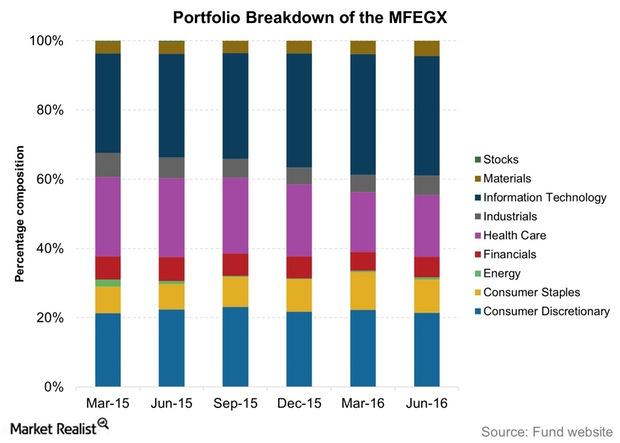 Noteworthy Portfolio Changes in the MFS Growth Fund
By David Ashworth

Jul. 22 2016, Published 7:55 p.m. ET
Fund overview
The MFS Growth Fund Class A (MFEGX) "invests the fund's assets primarily in equity securities. Equity securities include common stocks, preferred stocks, securities convertible into stocks, equity interests in real estate investment trusts (REITs), and depositary receipts for such securities."
The fund has a large-cap focus. Its managers adopt a bottom-up approach while selecting securities for the portfolio and while liquidating stocks. They invest in those companies that, according to them, have above average earnings growth potential.
Article continues below advertisement
The fund's assets were invested across 87 holdings as of June 2016, and it was managing assets worth $12 billion as of the end of June. As of May, its equity holdings included Facebook (FB), Thermo Fisher Scientific (TMO), Danaher (DHR), Adobe Systems (ADBE), and Intercontinental Exchange (ICE), which make up a combined 13.5% of the fund's assets.
Portfolio changes in the MFS Growth Fund
The information technology, consumer discretionary, and healthcare sectors make up the core of MFEGX. While the top two sectors make up over half of the fund's assets, the remaining one forms a little less than one-fifth. The fund is not invested in the telecom services and utilities sectors.
In the past three years as of June 2016, the sectoral composition of MFEGX has seen some distinctive changes. Exposure to information technology and materials has increased noticeably. Healthcare and consumer staples stocks also make up more of the portfolio than they did three years ago. On the other hand, exposure to energy and industrial stocks has come down sharply. Financials have also seen their shares decline.
At the stock level, the fund's composition has changed quite a bit, except for the consumer staples and the healthcare sectors, which have seen less turnover than other sectors.
But how has MFEGX performed so far in 2016, and what can this performance be attributed to? We'll explore these questions in the next article.