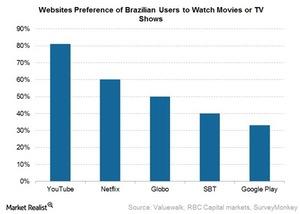 How Netflix Is Doing in Latin America
Netflix's success in Latin America
Netflix (NFLX) stated during its fiscal 2Q16 earnings call that it has continued its growth trajectory in Latin America, seeing steady growth even in Brazil (EWZ), which is going through an economic recession. The company is also hoping that its second season of its original series Narcos will continue to enjoy rising popularity in Latin America.
The company stated that it has a "pretty healthy investment in Latin America" and wanted to create a service in Latin America that was "worth every penny of the subscription fees." Netflix also stated in its fiscal 2Q16 earnings letter to shareholders that it has achieved success in terms of contribution profits in many Latin American countries, including Brazil, Chile, and Mexico. The company had to overcome many challenges in these countries, including poor broadband infrastructure, low disposable income, and language differences.
Netflix has also grappled with piracy in countries like Brazil. According to a BBC report from last year, citing a Brazilian government report, 41% of Brazilian users watch pirated content by downloading it from the Internet.
Article continues below advertisement
Netflix's expanding subscriber base in Brazil
Netflix stated that one of the reasons for its expanded subscriber base in Brazil despite the state of the Brazilian economy has been its low pricing. Netflix has priced its subscription plans in Brazil between $5.3 and $8 per month. It has also introduced prepaid cards and partnered with Brazilian banks such as Banco Santander (BSBR) to make payments easier for its users.
According to a ValueWalk report from last year, citing an RBC Capital Markets survey via SurveyMonkey, Netflix comes second only to Alphabet's (GOOG) YouTube among Brazilian users when it comes to preferences for an OTT (over-the-top) service for movies or TV shows. The reason for Netflix's popularity among Brazilian users is likely its content.