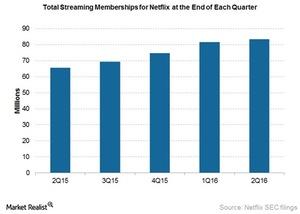 How Netflix Facilitates Payments in International Markets
By Shirley Pelts

Updated
Netflix's payment systems
Netflix (NFLX) acknowledged during its fiscal 2Q16 earnings call that, as it expands rapidly in international territories, payment systems in these territories aren't developed equally. For example, in markets like the Netherlands, payment platforms were very well developed, but in developing countries like Vietnam and Cambodia, Netflix accepted payments only through international credit cards.
The company also stated, "So we'll develop really along eCommerce in that whole ecosystem as people want pay for things online and that may come through mobile payments like Android and iOS, it will come along with third-party payment systems, but again the general economy and people are moving online through mobile and we're going to be able to take advantage and we are taking advantage of that."
Netflix doesn't believe payment systems in different countries will be a problem in the long term.
Early this year, Netflix's chief financial officer, David Wells, brought up the topic of bitcoin payments at the Citi Internet, Media & Telecommunications Conference. Wells stated, "It sure would be nice to have bitcoin in terms of a global currency that you could use globally."
Article continues below advertisement
Why did Netflix mention bitcoin?
According to the company, viewers can pay for Netflix subscriptions through gift cards or prepaid cards in countries or territories where there is no credit or debit access. Netflix has also partnered with Apple's (AAPL) iTunes in Latin America and Alphabet's (GOOG) Android devices to facilitate payments for Netflix subscriptions.
The reason Netflix mentioned bitcoin was because having different methods of payment makes Netflix susceptible to payment fraud, different rules and regulations across different countries, and the problem of making payment systems compatible with different banking structures.
As the chart above shows, Netflix had total streaming memberships of 83.2 million at the end of fiscal 2Q16, and it expects these memberships to total 85.5 million in fiscal 3Q16.