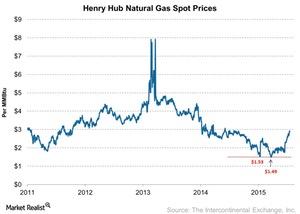 How Did Natural Gas Prices Move Last Week?
Natural gas prices and fertilizer producers
In recent weeks, US natural gas prices have started trending higher, and they continued to do so last week. Natural gas is a key raw material that accounts for 75% of input costs for nitrogen fertilizers such as ammonia, which is then used to produce urea.
Natural gas prices significantly impact nitrogen fertilizer producers due to the abundant availability of natural gas.
Article continues below advertisement
Price rise continued
During the week ended July 1, 2016, natural gas prices rose an average of 63% to $2.90 per MMBtu (million British thermal units) from the previous week's average of $2.70 per MMBtu.
The rise in natural gas prices along with the fall in average ammonia prices may have already been priced into the shares of fertilizer producers such as CF Industries (CF), Agrium (AGU), Terra Nitrogen (TNH), and CVR Partners (UAN). You should also consider the currency fluctuations that resulted from the Brexit vote.
Natural gas prices are based on spot prices for natural gas traded at Henry Hub, where gas prices hit a low of $1.49 per MMBtu in March 2016. Fertilizer producers may somewhat mitigate natural gas price fluctuations through futures contracts, but rising prices will put pressure on input costs.
Natural gas prices rose as the result of a rise in consumption due to warmer weather coupled with lower year-over-year production, according to the EIA (U.S. Energy Information Administration). Rising natural gas prices affect ETFs such as the Vanguard Materials ETF (VAW), which invests about 10% of its portfolio in agricultural chemical companies, including Monsanto (MON).
Natural gas price forecast
Last week, the EIA maintained its forecast for average natural gas prices at Henry Hub at about $2.22 per MMBtu in 2016 and $2.96 per MMBtu in 2017.
In the next part of this series, we'll take a look at coal prices. Coal is an alternative input material for nitrogen fertilizer production.