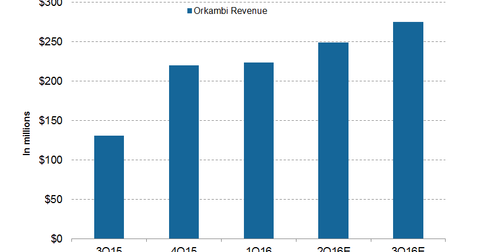 How Much Will Orkambi Fetch for Vertex Pharmaceuticals in 2Q16?
By Jillian Dabney

Updated
Orkambi: Vertex's key drug
Orkambi is a combination drug that contains Kalydeco and a second drug, lumacaftor. The drug has proved to be a success for Vertex Pharmaceuticals (VRTX) as its revenues popped from $130.8 million in 3Q15 to $223.1 million in 1Q16.
For more information on this drug, please read What's Vertex's Label Expansion Strategy for Orkambi?
Wall Street analysts are expecting Orkambi to generate $248.6 million and $274.8 million during 2Q16 and 3Q16, respectively.
Article continues below advertisement
What are the challenges faced by Orkambi?
With the continued uptake of Orkambi along with the label expansion efforts, Vertex Pharmaceuticals's (VRTX) top line in fiscal 2016 is expected to reach $1.7 billion–$1.8 billion. However, the challenge remains with the discontinuation rate for Orkambi following adverse effects or after feeling a lack of benefit.
Vertex holds a prominent CF pipeline where VX-661, a Phase 3 drug, might offer with an improved risk–benefit profile over Orkambi. To understand VRTX's pipeline, please read How Much Potential Does Vertex's CF Pipeline Hold?
Although Vertex is a leader in the CF space, it plans to build the sustainable business with high operating margins in the area of CF and beyond.
It can be risky to directly invest in a biotech company, as any news about the success or failure of a drug can result in volatility in the stock price. For a more conservative investment strategy, you can choose to invest in the First Trust NYSE Arca Biotechnology Index ETF (FBT), which holds ~3.7% of its total assets in Vertex Pharmaceuticals.
FBT also holds Medivation (MDVN), BioMarin Pharmaceuticals (BMRN), and Amgen (AMGN) in its portfolio with respective weights of ~4.1%, ~3.6%, and 3.5% of the fund's total assets.
Let's discuss Kalydeco's revenue expectations for 2Q16 in the next article.