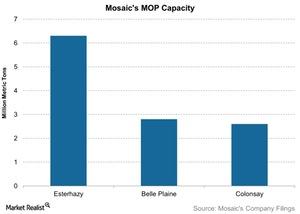 Mosaic to Idle Colonsay Mine: What Does That Mean?
By Adam Jones

Updated
Mosaic to idle Colonsay potash mine
On July 13, 2016, Mosaic (MOS) released a statement that it will idle its Colonsay mine for the rest of 2016. The mine is one of three of the company's MOP (muriate of potash) or potassium chloride mines. As a result, Mosaic has given temporary layoff notices to 330 employees.
Article continues below advertisement
Why this move?
Mosaic stated, "The move is intended to allow Mosaic to meet customer demand while adapting to challenging potash market conditions."
The potash industry has had a challenging run in 2016, and potash prices have hit multiyear lows. There are many reasons behind this weakness, including but not limited to overcapacity of MOP, which led to oversupply in the global market.
In the fertilizer market or, in fact, any other commodities market, producers don't have pricing power and are usually price takers. So lowering production costs becomes one of the key core competencies for them.
That means that companies can lower the cost of production and maintain margins while prices are falling. The Colonsay potash mine was among Mosaic's higher cost facilities. Mosaic stated, "The Company's lower-cost Esterhazy and Belle Plaine mines, in combination with current inventory, will allow Mosaic to meet its short-term potash supply needs."
Intrepid Potash has also idled a facility
Besides Mosaic, PotashCorp (POT), Intrepid Potash (IPI), and Agrium (AGU) are some of the largest producers of potash (MOO). In May 2016, Intrepid Potash idled its West facility, which accounted for 42% of the company's potash production in 2015. In a statement, the company said this facility was one of its higher-cost operations.