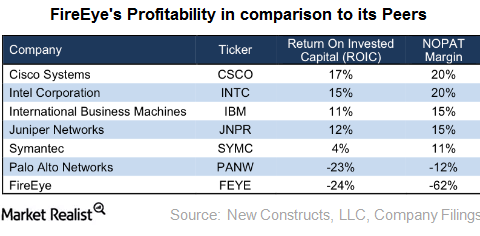 Why FireEye Could Lose Out to Competition in Cybersecurity Space
By Anne Shields

Updated
FireEye's move toward a subscription model might improve cash flows
Earlier in the series, we discussed analysts' expectations for FireEye's (FEYE) soon-to-be-announced fiscal 2Q16 results. Due to its cloud-based offerings, especially threat intelligence, cloud email, and FaaS (framework-as-a-service) capabilities, FireEye has a prominent place in the threat prevention and cybersecurity space. MarketsandMarkets estimates show that the global cybersecurity space will reach $170.2 billion in the next five years from the current $100 billion. Cybersecurity Ventures, a research firm, expects that the spending on cybersecurity solutions will increase to $170 billion in 2020 from $75.4 billion in 2015.
Article continues below advertisement
In fiscal 1Q16, FireEye's product revenue fell 16% to $33.7 million. Subscription and services revenue rose 57.7% to $134.3 million. In fiscal 1Q16, Dave DeWalt, FireEye's ex-CEO, said, "The shift from appliance-based solutions to subscriptions and cloud-based security is happening faster than even we anticipated."

This shift to cloud services has impacted the company's revenue. Its product revenues are billed at the time of shipment. On the other hand, its cloud services revenues are recurring and flow over the duration of the contract, which varies from one to three years. Although FireEye's transition to a subscription-based business model has impacted its product revenues, in the long term it's likely to improve the company's cash flows.
Increasing competition and mounting losses threaten FireEye's position in the cybersecurity space
In fiscal 1Q16, FireEye's cash and cash equivalents stood at ~$921 million compared to $1.1 billion in fiscal 1Q15. The company is yet to post a profit. Its net loss increased to $166 million in fiscal 1Q16 compared to $133 million. It aims to record a profit by 2018, primarily by cost control.
As the above chart shows, FireEye's peers are far ahead of the company when it comes to profitability. Though Cisco (CSCO), Intel (INTC), and IBM (IBM) have an established and long-standing position in the technology space, relatively new players like Juniper Networks (JNPR) and Palo Alto Networks (PANW) are also positioned better than FireEye when it comes to competitive advantage. If a company has high ROIC (return on invested capital), it's in a better place to charge a price premium and thus have a competitive advantage over its peers.
Negative profitability is bound to impact FireEye's position in the cybersecurity space, which is becoming more competitive with every passing day. With mounting losses, FireEye will not only have less capacity to invest in product development but also less say in pricing decisions.