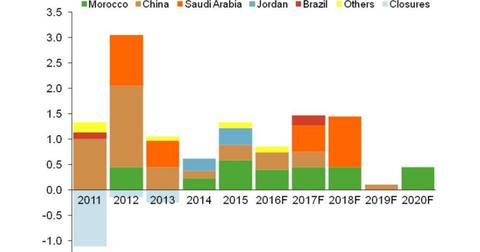 What Is the Medium-Term Outlook for DAP and MAP Prices?
By Adam Jones

Jul. 29 2016, Updated 8:05 a.m. ET
Capacity and cost curves
Previously, we saw how supply and demand determines the prices for DAP and MAP. DAP and MAP prices are declining while the demand is expected to inch up in the 2015–2016 planting season.
With low-cost producers (MOO) seeking to expand their capacities, the cost curve shifts further out and puts pressure on marginal producers. For the medium term, phosphate producers are expected to add capacity, as we can see below.
Article continues below advertisement
Capacity expansion
Globally, for each of the years following 2015, capacity addition is forecasted in the chart above. In 2016, less than 1 million metric tons will be added, with Morocco and China adding the most capacity.
Going forward, about 1.5 million metric tons should be added in 2017 and 2018 each. The most capacity addition is expected to take place in Morocco and Saudi Arabia. By 2019, about 4 million metric tons of phosphoric acid capacity will be added globally, according to PotashCorp.
Medium-term outlook
According to the IFA (International Fertilizer Industry Association), global demand of phosphoric acid is expected to reach 48.3 million metric tons by 2019. The capacity additions should reach 51.1 million metric tons over the same period.
Compared with 2014, the capacity addition is expected to grow by 2.5% per year by 2019 while demand is expected to grow by 2.4% per year. So, capacity addition is expected to keep pace with demand growth.
Price outlook for DAP and MAP
When more capacity addition occurs on the far right of the chart and if the marginal cost of production rises, the supply curve will steepen and cause DAP and MAP prices to rise. Conversely, when a low-cost producer adds more capacity, the supply curve will flatten, causing prices to fall.
While most of the capacity additions are expected to happen in Morocco and Saudi Arabia, which are on the lower end of the cost curve, prices of DAP and MAP could head downward as the cost curve moves out further. This could put pressure on companies such as Mosaic (MOS), PotashCorp (POT), Agrium (AGU), and Israel Chemicals (ICL).