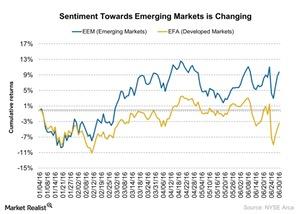 Mark Mobius: The Fate of Emerging Markets after the Brexit Vote
By Sarah Sands

Nov. 20 2020, Updated 2:40 p.m. ET
Mark Mobius's stance after the Brexit vote
In a Squawk Box interview on CNBC, Mark Mobius, executive chairman of the Templeton Emerging Markets Group, explained his views on emerging markets and discussed which economy could benefit the most following the Brexit vote.
In the past months, we saw that money flowed towards emerging markets (EEM). Emerging markets became a good choice for many portfolio managers and fund managers. Mark Mobius, a fan of emerging markets (VWO), believes there they present a great opportunity. Other fund managers believe the same.
Article continues below advertisement
Yacov Arnopolin, a portfolio manager for the emerging markets debt team at Goldman Sachs (GS) Asset Mangement, also believes that the sentiment towards emerging markets has been changing.
Billionaire investor Ray Dalio also believes that there is a huge potential in emerging markets. His portfolio is heavily tilted towards them.
Mark Mobius believes emerging markets will benefit
Mark Mobius believes emerging markets stand to benefit from Brexit. According to Mobius, the exit of Britain from the European Union (VGK) will shake investors' confidence in both economies. There is speculation in the market that it may prompt other member countries to follow. The manager of the Janus Global Unconstrained Bond Fund, Bill Gross, said that Brexit is "a storming of the gates of finance by populists."
On the other side of the ocean, the US economy (VOO) (SPY) (SPXL) is showing softness. Because of these issues, fund managers are looking towards Asia. Emerging economies (EDC) would benefit from this.
Series overview
In this series, we'll discuss which economy will benefit the most from the Brexit vote, the valuations of emerging markets—particularly China (YINN) (FXI) (ASHR) and Brazil (EWZ), and what the Russian economy could offer investors. In the next part of this series, we'll analyze valuations in emerging markets.