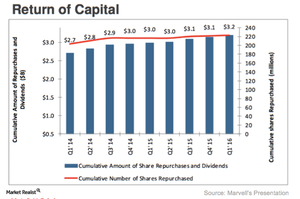 What Makes Marvell a Good Acquisition Target?
Marvell attracts institutional investors
In the previous part of this series, we saw that hedge fund Starboard Value acquired a 6.7% stake in Marvell Technology (MRVL). This acquisition got Starboard four seats on Marvell's board, and it can now back the board's decisions.
Starboard also appointed one of its directors, Richard Hill, as Marvell's chair. This created renewed optimism among investors about the company's future. The number of institutional investors in Marvell rose after Starboard's investment in the company.
Article continues below advertisement
Marvell's fundamentals
On the fundamental side, Marvell is a strong company with $2 billion in cash reserves and zero debt. Being a fabless company, it has a rich portfolio of intangible assets, with 5,300 US patents and over 1,400 foreign patents as of January 31, 2015.
Moreover, Marvell had positive earnings in fiscal 2015. Amid the slowdown in the PC (personal computer) space, Marvell has been shifting its product portfolio to cater to the IoT (Internet of Things) segment. It has also undergone restructuring, under which it has offloaded its mobile business. Even Intel (INTC), Advanced Micro Devices (AMD), and Qualcomm (QCOM) have been restructuring their businesses amid slow sales.
Shareholder returns
The key issue with Marvell is its allocation of reserves. This matter was questioned by its former external accounting company PricewaterhouseCoopers. Starboard Value could help the company's board to reconsider its capital allocation strategy and provide returns to shareholders. In fiscal 2015, the company returned $187 million to shareholders in the form of dividends and share buybacks.
Another thing Starboard Value could do is sell off part or all of Marvell. A potential buyer could be a Chinese (AAXJ) company. Tsinghua Holdings recently disclosed its ~2% stake in Marvell, which equates to an investment of around $78.2 million.
We'll look at China's interest in Marvell in the next part of this series.