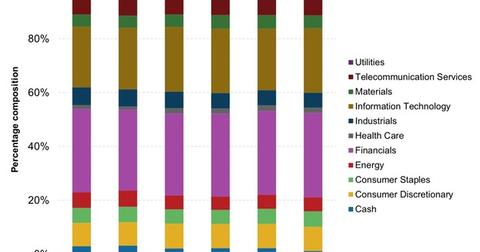 A Look at FSEAX's Portfolio Moves Year-to-Date in 2016
By David Ashworth

Updated
Fidelity Emerging Asia Fund overview
The Fidelity Emerging Asia Fund (FSEAX) aims to invest 80% of its net assets in "securities of Asian emerging market issuers and other investments that are tied economically to Asian emerging markets."
According to fund literature, Asian countries with emerging markets include Hong Kong, India, Indonesia, South Korea, Malaysia, the Philippines, China, Singapore, Taiwan, and Thailand.
The fund's manager uses a combination of bottom-up and top-down research by applying fundamental analysis on each issuer's financial condition and industry position, as well as market and economic conditions, while constructing the portfolio.
Article continues below advertisement
The fund's assets were spread across 231 holdings as of March 2016, and it was managing assets worth $856.5 million as of May. As of April, its equity holdings included Alibaba Group Holding (BABA), KB Financial Group (KB), Advanced Semiconductor Engineering (ASX), ICICI Bank (IBN), and 58.com (WUBA).
Portfolio changes in the Fidelity Emerging Asia Fund
FSEAX is focused on two sectors: financials and information technology. These two sectors combine to form 54% of the fund's portfolio. Consumer discretionary is a distant third, forming 9.3% of the fund's assets. Thus, the top three sectors form 63% of FSEAX.
Compared to the MSCI AC Asia Pacific ex Japan Index, the fund is overweight in the financials, consumer discretionary, utilities, energy, and materials sectors. Meanwhile, it's underweight in the telecommunications services, healthcare, and industrials sectors.
Chinese stocks form 22.1% of the portfolio, closely followed by Hong Kong stocks. South Korea, Taiwan, and India round off the fund's top five invested countries.
Though financials is the sector in which FSEAX invests the most, its allocations have fallen from 36% in the 12-month period ended May 2016. On the other hand, information technology stocks form more of the portfolio than they did a year ago. While FSEAX's exposure to consumer discretionary stocks has fallen a bit, its exposure to consumer staples stocks has risen compared to a year ago.
With this portfolio positioning, how has FSEAX fared YTD in 2016, and why? Let's look at that in the next article.