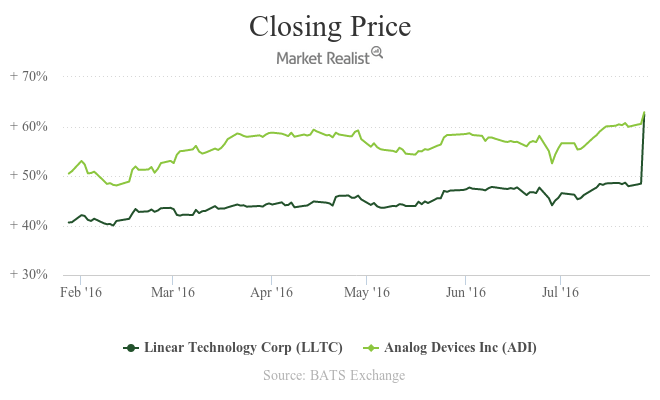 Why Linear Technology's Stock Soared 29% in Just 30 Minutes
ADI and LLTC: The latest semiconductor consolidation
The signs of a maturing semiconductor industry are visible with a consolidation wave striking the industry in 2015 and a fresh round of acquisitions occurring in 2016. Many companies acquired their competitors or moved along the supply chain to gain cost benefits and offer comprehensive product portfolio.
The latest names in this trend are analog chipmakers Analog Devices (ADI) and Linear Technology (LLTC).
[marketrealist-chart id=1490080]
On July 26, 2016, Analog Devices (ADI) announced that it is acquiring Linear Technology (LLTC) in a cash-stock deal worth $14.8 billion. This equates to $60 per share of Linear Technology. On July 25, 2016, this represented a 24% premium on Linear Technology's stock price.
Article continues below advertisement
Linear's stock reaches 15-year high
In a slowing semiconductor industry, such an acquisition came as a welcome surprise and Linear Technology's stock skyrocketed, reaching a 15-year high of $62.49 on July 26, 2016. In just 30 minutes, LLTC stock rose a whopping 29%, reporting the biggest one-day gain since the company went public in May 1986. Meanwhile, ADI stock rose by 3.9% to $62.87.
The two stocks rose immediately after Bloomberg reported about a possible acquisition between ADI and LLTC. The NASDAQ halted trading in both stocks and has not given a time when trading in the two stocks will resume.
Looking at the last traded price, Linear Technology has a market capitalization of ~$14.9 billion, and ADI has a market capitalization of ~$19.3 billion. On July 27, 2016, LLTC stock fell as it crossed $60, the price ADI will pay under the acquisition. ADI stock fell too, as there would be an outflow of cash from the company and the new share issue would dilute the returns per share.
Peers' stocks also rise
The acquisition news put the Market in the "buy" mode. Plus, the stocks of rival analog IC (integrated circuit) makers also soared on July 26, 2016.
At the end of 2015, ADI and Texas Instruments both made offers to buy Maxim Integrated. However, they later withdrew their offers as they could not agree on a price. Maxim Integrated is open for sale and is welcoming bids.
The analog IC market witnessed two major acquisitions in the last 12 months—Semiconductor (ON) acquired Fairchild Semiconductor for $2.4 billion and Microchip acquired Atmel for ~$3.6 billion.
In this series, we will look deeper into the ADI–LLTC deal and understand the financial and business synergies of the acquisition.