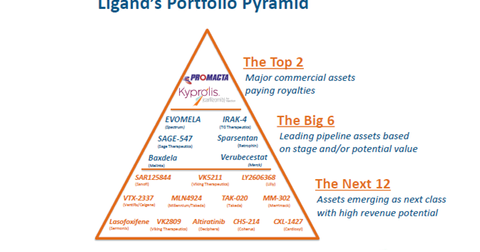 Ligand Pharmaceuticals's Portfolio Pyramid as Its Valuation Catalyst
By Jillian Dabney

Nov. 20 2020, Updated 11:04 a.m. ET
Ligand's product portfolio
Ligand Pharmaceuticals's (LGND) product portfolio has expanded from nine programs in 2008 to 140+ programs in 2016. It has 13 commercialized programs from which the company receives a royalty.
These commercialized products include Promacta, Kyprolis, Viviant/Conbrisa, Duavee, Nexteron, Noxafil-IV, Exemptia, Vivitra, Vfend, and the recently approved Evomela.
The company has partnership agreements with leading companies such as Novartis (NVS), Amgen (AMGN), Merck (MRK), Pfizer (PFE), Baxter (BAX), and Eli Lilly (LLY). Similarly, it holds cutting-edge technology platforms such as Captisol, OmniAb, LTP, and Selexis technologies.
Ligand Pharmaceuticals's product portfolio can be divided into three categories: its Top Two products, the Big Six pipeline, and the Next 12 emerging assets.
Article continues below advertisement
The portfolio pyramid
Promacta and Kyprolis are Ligand Pharmaceuticals's two major royalty-generating drugs. The rise in the revenue from these two drugs is the major driver for LGND's valuation, as ultimately it would result in higher royalty revenue for Ligand Pharmaceuticals. In the next article, we'll discuss Promacta, the company's major royalty revenue contributor.
The company's Big Six pipeline assets are:
Evomela
Baxdela
SAGE-547
Sparsentan
Verubecestat
IRAK-4
Evomela, a Captisol-enabled melphalan IV formulation, was developed in association with Spectrum Pharmaceuticals (SPPI). On March 15, 2016, it received approval from the FDA for two indications associated with multiple myeloma (or MM).
Evomela is indicated prior to hematopoietic progenitor (stem) cell transplantation (ASCT) in MM patients and as a palliative treatment in MM patients for whom oral therapy isn't appropriate. The drug would fetch a royalty rate of 20% for Ligand Pharmaceuticals.
The Next 12 product line consists of 12 pipeline programs with diverse therapeutic areas such as oncology, metabolic disease, biosimilars, inflammation, and cardiovascular. Seven of the 12 programs are Captisol-enabled, three are new molecular entities (or NME), and two are Selexis programs.
Investment in pharmaceutical or biotechnology companies can be risky, as there can be industry-specific threats such as pipeline failure and loss of revenue following patent expiration. To mitigate such risks, you can invest in broad-based funds such as the PowerShares Dynamic Pharmaceuticals Portfolio ETF (PJP). PJP holds ~4.0% of its portfolio weight in Ligand Pharmaceuticals.