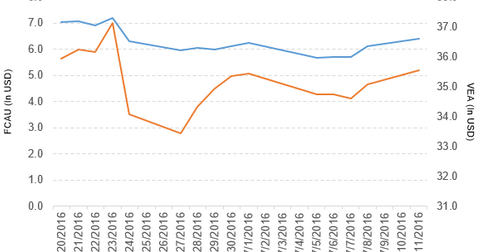 Why Is Levi & Korsinsky Investigating Fiat Chrysler Automobiles?
By Gabriel Kane

Updated
Price movement
Fiat Chrysler Automobiles (FCAU) has a market cap of $8.2 billion. It rose by 4.4% to close at $6.39 per share on July 11, 2016. The stock's weekly, monthly, and year-to-date (or YTD) price movements were 2.4%, -10.6%, and -54.3%, respectively, that day. FCAU is trading 0.23% below its 20-day moving average, 8.6% below its 50-day moving average, and 34.1% below its 200-day moving average.
Article continues below advertisement
Related ETF and peers
The Vanguard FTSE Developed Markets ETF (VEA) invests 0.10% of its holdings in Fiat Chrysler. The ETF tracks a market-cap-weighted index of large- and mid-cap stocks from developed markets outside the United States, dynamically transitioning to include small caps and Canadian stocks. The YTD price movement of VEA was -1.4% on July 11.
The market caps of Fiat Chrysler's competitors are as follows:
Latest news on Fiat Chrysler
Levi & Korsinsky is investigating Fiat Chrysler Automobiles due to concerns of violations of federal securities laws by the company and some of its officers and directors. The press release stated that "on January 12, 2016, a civil lawsuit was filed against the Company, alleging that the Company had inflated the number of year over year sales reported. Then on January 15, 2016, the Company filed a Form 6-K acknowledging that a lawsuit had been filed against FCA US LLC."
Fiat Chrysler Automobiles' sales in June 2016
Below is a breakdown of Fiat Chrysler's US sales in June 2016 and how they compare year-over-year:
Fiat Chrysler US: 197,000 units, a rise of 6.5%
Jeep: 84,000 units, a rise of 17.0%
Chrysler: 25,000 units, a fall of 19.7%
Dodge: 45,000 units, a rise of 3.1%
Fiat: 2,544 units, a fall of 18.9%
Ram: 41,000 units, a rise of 14.3%
Here's a breakdown of sales in Canada:
Fiat Chrysler Canada: 27,776 units, a rise of 2.1%
Dodge Grand Caravan: 6,165 units, a rise of 42.6%
Jeep Cherokee: 2,810 units, a rise of 19.0%
Dodge Challenger: 374 units, a rise of 14.7%
Jeep: 7,693 units, a rise of 11.0%
Sales in Italy were as follows:
FCA Italy: a rise of 13.6%
Fiat: a rise of 13.9%
Alfa Romeo: a rise of 34.1%
Jeep: a rise of 20.3%
In the next part of this series, we'll discuss Honda Motor.