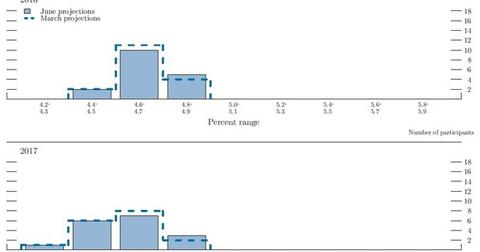 Labor Market Might Not Hinder a Rate Hike in 2016
By David Ashworth

Updated
Unemployment rate—June 2016 minutes
The June 2016 meeting minutes showed that FOMC (Federal Open Market Committee) participants were divided regarding the sharp reduction in monthly job additions in May. There were a few who weren't too concerned about the fall in job additions. The economy was reaching full employment—this would naturally result in slowing job additions. Another group said that regional surveys of labor market conditions didn't substantiate weakening in job market conditions.
Article continues below advertisement
On the other hand, some others viewed the sharp slowdown in job additions as indicating "a broader slowdown in growth of economic activity." These policymakers pointed to the sharp decline in the labor force participation rate, a rise in the number of people working part-time for economic reasons, and a decline in industry payrolls' diffusion indices.
The following graph, taken from the June 2016 minutes, shows the distribution of expectation on the unemployment rate for 2016 and 2017.
Participants aren't too worried
Although May data raised uncertainty regarding FOMC participants' outlook for the labor market, it hasn't materially impacted the range of expectations for the unemployment rate—as you can see in the above graph. More data will be required to determine which view is correct—whether the labor market is actually representing a broad-based slowdown in economic activity or whether it isn't something to be worried about.
Article continues below advertisement
Investors should watch for wage pressures to build—it will indicate a strong labor market. Job seekers would be able to negotiate higher wages when they change jobs due to higher demand. This will raise consumer spending (XRT) (XLP) and fuel inflation (TIP). On the other hand, if spending on discretionary items falls, mutual funds like the Franklin Growth Fund – Class A (FKGRX) and the Vanguard PRIMECAP Fund – Investor Shares (VPMCX) are beneficial because they don't have a big chunk of their assets invested in stocks from the sector.
Implications for monetary policy
Policymakers are confident about an increase in economic activity and inflation. Although the labor market raised some concerns, they aren't overbearing—at least for now. Due to the interrelation of the three variables—economic activity, inflation, and unemployment—if two of the variables show strength, it's possible that the third will follow sooner or later. Also, moderate economic activity and a general rise in inflation may be enough for a rate hike 2016. It might be towards the end of the year due to elections in November. However, a rate hike can't be ruled out for now.