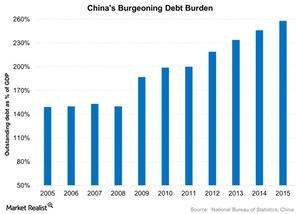 Hayman Capital's Kyle Bass on Investment Timing and China
By Lynn Noah

Aug. 1 2016, Updated 10:10 a.m. ET
"The largest macro imbalance in world history"
Kyle Bass, an American hedge fund manager and founder of Hayman Capital, is almost certain that China will face massive write-offs. This would, in turn, require recapitalization of banks as the country's debt has surged tremendously.
Bass stated in an interview with Real Vision that China's corporate debt is "freezing up" due to rising defaults and the cancellation of debt sales.
Bass is mostly bearish on China. As reported by Bloomberg, he commented during the SkyBridge Alternatives Conference (or SALT) Conference 2016 that China has been experiencing a hard landing and has created "one of the biggest macro imbalances the world has ever seen." He had earlier described China's massive debt burden as a "ticking time bomb."
China's total debt-to-GDP ratio is currently in a range of 240%–270%, compared to 150% a decade ago. China's debt as a percentage of GDP is larger than that of the US or Germany.
Article continues below advertisement
China to devalue its currency
As reported in the Standard Journal, Bass said in a recent interview on Real Vision, "They [China] are going to do what's best for China. And what's best for China is to materially devalue their currency."
Bass added, "It's not Armageddon. They're going to have a loss cycle. They'll recap their banks. Their currency will depreciate, pretty materially. It will export deflation to the world one last time, and if you have any money left, it will be the best time in the world to invest. It will be the greatest time ever to invest in Asia."
Thus, to offset the negative impact of these losses, Bass opined that the Chinese authorities would take steps that would result in weakening of the yuan against other currencies.
China will have to open its economy
In our view, the time has come for the Chinese government and its central bank to open up and become more transparent as the world is closely watching China (ASHR) (FXI). Some of the economic data indicates that China is stabilizing.
However, the immediate need is to take aggressive measures rather than baby steps to put the economy back on the growth track and reduce the massive debt burden. Only time will tell how effective these measures would be to turn the slowing economy around.
In the next article, we will look at whether China really wants to open up and become transparent.