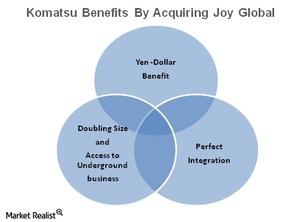 How Komatsu Benefits from Acquiring Joy Global
By Jessica Stephans

Nov. 20 2020, Updated 1:12 p.m. ET
About Komatsu
Komatsu (KMTUY) is Japan's leading construction equipment maker. It manufacturers and sells both construction and mining equipment, including excavator bulldozers and wheel loaders. Globally, Komatsu is the second-largest manufacturer of construction and mining equipment, after US-based Caterpillar (CAT). Other mining industrial (XLI) equipment manufacturing players in the US include are Illinois Tools Work (ITW) and Terex (TEX).
Article continues below advertisement
How will Komatsu benefit from JOY's acquisition?
A number of Japanese companies are taking advantage of the yen's growing strength against the US dollar. The dollar has fallen by 10% against the yen in 2016. Aside from gaining market share, Komatsu expects the following benefits from its proposed acquisition of Joy Global:
perfect integration with Joy Global's business
roughly twice the size of Komatsu's manufacturing equipment business
a stronger core mining equipment business, which would give KMTUY access to JOY's underground mining business (Komatsu currently produces only surface mining equipment)
expansion of Komatsu's customers worldwide
sustainable growth, as Komatsu's 80% sales are generated outside of Japan
Komatsu's financials at a glance
In fiscal 2015 and 2016, KMTUY generated revenues of $ 18.0 billion and $15.4 billion, respectively (March ends the company's financial year). The company's sales are expected to increase marginally by 3.1% and 1.5% in fiscal 2017 and 2018, respectively, prior to completing the JOY acquisition.
Komatsu's gross margins stood at 29.2% and 29.1% in fiscal 2015 and 2016. Its gross margins are expected to be in the same range for the next two years, according to Bloomberg estimates. The company's EBITDA (earnings before interest, taxes, depreciation, and amortization) margins stood at 17.4% and 17.3%, for the same period.
Komatsu's net margins were at 7.8% and 7.4% in fiscal 2015 and 2016, respectively. According to Bloomberg estimates, both its EBITDA and net margins are expected to be maintained prior to JOY-KMTUY deal.
In the next part, we'll discuss a few key details of Joy Global's business.