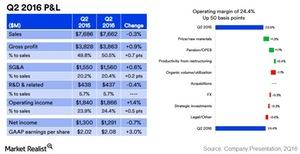 Key Takeaways from 3M's 2Q16 Sales Performance
By Shannon Black

Updated
Our take on 3M's sales performance
In terms of the trend in sales performance, 3M (MMM) continues to do pretty well in its businesses with a consumer focus. This accounts for ~50% of its total sales. This is evident in organic gains in the consumer and healthcare units.
Given the conditions of soft demand in the industrial (RGI) belts around the world, a weakness in its industrial (IYJ) businesses is expected to persist. These headwinds will continue to weigh heavily on the electronics business.
Article continues below advertisement
Investors should also note that 3M has had three consecutive quarters of negative organic growth. The company hinted that it will have positive organic growth only by the fourth quarter of 2016. This has been a persistent problem since 2015 for industrial companies such as Honeywell International (HON) and United Technologies (UTX).
3M's sales, an industrial disappointment
3M's (MMM) consolidated revenues in 2Q16 fell 0.3% year-over-year to $7.7 billion. A 1.3% decline in volume and a 1.5% impact of currency translations offset the acquisitive growth of 1.4% and pricing gains of 1.1%.
The results in the electronics segment, which contributed $1.1 billion to company revenues, were especially weak due to subdued consumer electronics demand in important markets such as China. Sales in the electronics segment fell 9% organically and underperformed the entire portfolio.
Sales in the industrial segment fell 0.1% year-over-year to $2.6 billion as an acquisitive growth of 2.6% supported organic declines of 1.4% and currency headwinds of 1.3%.
For 3M, consumer is king
3M's businesses with a consumer focus experienced the widest organic growth expansion in 2Q16. Sales in the healthcare and consumer segments increased 4.9% and 2.7%, respectively, in organic terms. Equally impressive in the healthcare unit was that sales increased organically across subunits and geographies.
The company has been increasing investments in this business for several years. With margins of 33% and organic growth of 5% in a tough economic backdrop, investors should have no reason to complain about more investments in the segment. The healthcare and consumer units accounted for $1.4 billion and $1.3 billion in sales, respectively, in 2Q16.