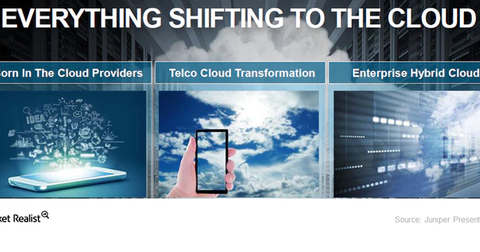 Juniper Gets Cloud Solution to Transform Enterprise Operations
By Adam Rogers

Jul. 15 2016, Updated 11:05 a.m. ET
Solution helps companies accelerate deployment of real-time services
In June 2016, Juniper Networks (JNPR) announced the Juniper Networks Cloud-Enabled Branch. According to Juniper, this solution will "allow enterprises and managed service providers alike to seamlessly create and automate delivery of branch office networking services on-demand."
Companies will also be able to accelerate deployment of real-time services and applications. A modern network architecture enables business expansion and improves employee productivity.
Article continues below advertisement
Juniper stated that even though companies are realizing the benefits of private, public, and hybrid cloud models, they lack a comprehensive solution suite to deploy these services. Juniper said its cloud-enabled branch service will help transform enterprise operations with new services and applications.
Juniper is optimistic about the cloud trend
The cloud has started to become an important growth driver for companies such as Cisco Systems (CSCO) and Juniper Networks. According to a Cisco report, more companies are now looking to connect private and public clouds.
Juniper's top ten customers include five from the telecom space and five from the cloud segment. Customers "born in the cloud" understand the value of the cloud. Telecom companies such as US-based (SPY) AT&T (T), Verizon (VZ), and T-Mobile (TMUS) are transforming their networks by moving from legacy networks to the next-generation cloud.
Smaller enterprises are expected to migrate to the cloud over time. On the other hand, Juniper expects large businesses to split applications between private and public clouds. The key challenge for Juniper will be to help these businesses transition seamlessly to public and hybrid cloud architectures.