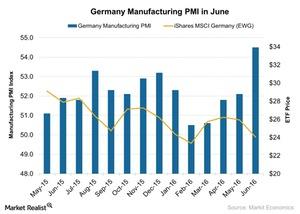 June Manufacturing PMI: Why Germany's Business Climate Is Better
Germany Manufacturing PMI in June
According to data provided by Markit Economics, the final Markit Germany Manufacturing PMI (Purchasing Managers' Index) stood at 54.5 in June 2016 compared to 52.1 in May. It was above the initial estimate of 54.4 and the highest gain since February 2014.
The strong performance in manufacturing PMI was mainly due to the following:
The strong growth in output and production level signaled improving business conditions in Germany (EWG) (HEWG).
Improvement in new business orders indicates a strong international demand. This demand mainly came from China (FXI) (YINN) and the United States (QQQ) (VFINX), where export orders rose.
Job creation improved. It was highest job growth in Germany since January 2012.
Article continues below advertisement
Performance of various ETFs
The iShares MSCI Germany (EWG), which tracks the performance of Germany, fell 7.4% in June 2016. The iShares MSCI Eurozone (EZU), which tracks the performance of the Eurozone, fell 7.7%. Despite the shock from the Brexit vote on June 23, 2016, the sentiment toward Germany remained positive.
The United Kingdom's (EWU) top business partner in the European Union is Germany. Germany represents the highest trade value for the United Kingdom. A Brexit will hamper the trade flow of both nations.
In the next part of this series, we'll look at the manufacturing PMI for the Eurozone.